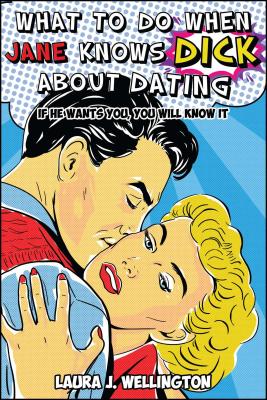 What to Do When Jane Knows DICK About Dating
If He Wants You, You Will Know It
Paperback

* Individual store prices may vary.
Description
Here's Jane. See Jane go on a date. See Jane fail—oh no! Jane, no!

I mean, really, what's a Jane gotta do to land a man so she can, finally, kick singlehood to the curb? Dating is a nightmare for single women today. When the "rules changed" single men became more difficult to understand than ever before. The answer is, go back to the basics, to the time before the rules changed.

What to Do When Jane Knows DICK About Dating shows you how to make dating as simple as the "Dick and Jane" series once made reading. If you're looking for the unfiltered truth about men and dating combined with wit and commonsense, this advice book is for you. It brings sense and success back to the six-letter nightmare called dating.

It's a parody, it's an advice book, it's a quick-read but—most of all—it's successful. Make your dating-life worth living again. Don't expect to be bored, by any means, when you read advice such as when to throw a man who eats his own bait (or his mother) back into the swamp from which he slithered! Leave Dick, leave.
Praise For What to Do When Jane Knows DICK About Dating: If He Wants You, You Will Know It…
"I never knew "dick" about dating. That's why I relied on experts and I was "Married At First Sight." I still don't know "dick" about dating, but I've been happily married for over three years. Because I'm happy in my relationship, my friends seem to think that I have all sorts of good advice. Finally, I have something in my back pocket to prove them right. When they ask for my advice, I'll just send them this book. They'll thank me later."
— Jamie Otis, Reality Personality, Married At First Sight (FYI), Jewelry Designer/Entrepreneur

"It's about time single women everywhere had a book like this."
— Vikki S. Ziegler, Esq., Reality Personality, Untying the Knot (Bravo), Author

"Ms. Wellington is going to go far in this field. She's a passionate and caring journalist and author."
— James Tormé, Jazz Vocalist

"A refreshing take on the whirlwind that is dating in today's world. Laura is an entertaining and intellectual writer who manages to simplify what we're making way too difficult in the single life. A must-read for anyone joining or hopping back into the dating pool with a Speedo wedgie."
— Jessi Sanfilippo, comedian at SHUGGILIPPO.com

"Laura is the Fairy Godmother I wish I would have had when I was figuring out dating."
— Faiza Rammuny, Influencer, EXPIREDNFABULOUS.com

"If you often find yourself not getting a second date, it's not them. It's YOU. Follow Laura's instructions and you'll succeed in modern courtship."
— DJ Paris, Influencer, THOUGHTSFROMPARIS.com

"Dating sucks. Thankfully, this book will help bring your misery to an end. I only wish Laura Wellington had written it when I was dating!"
— Deva Dalporto, YouTuber & Influencer, MyLifeSuckers.com
Post Hill Press, 9781682615300, 208pp.
Publication Date: February 13, 2018
About the Author
Laura J. Wellington is the CEO and Founder of THREADMB.com. She is an influencer, entrepreneur, author, and an award-winning television creator, including four Tellys and The Forbes Enterprise Award. Widowed at a young age, Laura is mom to five kids.
or
Not Currently Available for Direct Purchase