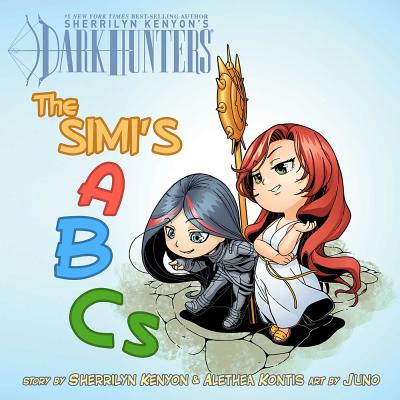 The Simi's ABCs (Hardcover)
Adventures with Dark-Hunters
Permuted Press, 9781682615805, 48pp.
Publication Date: December 19, 2017
* Individual store prices may vary.
Description
A is for Akri, and B is for…barbecue! Learn the Alphabet Simi-style! Join everyone's favorite adorable little demon from Sherrilyn Kenyon's Dark-Hunters® as she explores the alphabet in her own unique and colorful way in this delightful new children's book.

Simi is one of the most recognized and adored characters from Kenyon's Nick Chronicles® and Dark-Hunters®. Now you can join her for a thrilling adventure unlike any other as she explores the world of Dark-Hunter® while learning her alphabet.

This picture book showcases the imaginative artwork of the Dabel Brothers and the artist Juno, and features all your most beloved Dark-Hunter® characters, including Acheron, Menyara, Nick, and even some of the villains. Menyons of all ages will be enchanted by this brilliant new look into the Dark-Hunters® universe.

It's the Simi book fans have been clamoring for, and one they can enjoy with their kids for generations to come!
About the Author
#1 New York Times bestselling author Sherrilyn Kenyon lives a life of extraordinary danger…as does any woman with three sons, a husband, a menagerie of pets and a collection of swords all of the above have a major fixation with. But when not running interference (or dashing off to the emergency room), she's found chained to her computer where she loves to play with her imaginary friends. With more than sixty million copies of her books in print, in over one hundred countries, she certainly has a lot of friends to play with too.
Her books appear regularly at the coveted #1 bestselling spot. This extraordinary bestseller continues to top every genre she writes. Her current series includes: The Dark-Hunters®, The League®, Chronicles of Nick®, Deadman's Cross™, Nevermore™ and the upcoming Silent Swans™ and Shadows of Fire™. Since 2004, she has placed more than 80 novels on the New York Times list in all formats including manga.
Alethea Kontis is a princess, author, fairy godmother, and geek. Author of over fifteen books and contributor to over twenty-five more, her award-winning writing has been published for multiple age groups across all genres, including science fiction, fantasy, horror, humor, contemporary and paranormal romance, poetry, graphic novels, Twitter serials, and non-fiction. A former child actress, Alethea hosted over 55 episodes of "Princess Alethea's Fairy Tale Rants" on YouTube, and continues to host Princess Alethea's Traveling Sideshow every year at Dragon Con. She enjoys audiobook and podcast narration, speaking at middle schools across the country (in costume, of course), and one day hopes to make a few more movies with her friends. Alethea currently resides on the Space Coast of Florida with her teddy bear, Charlie. Find out more about Princess Alethea and the magic, wonderful world in which she lives here:
https://www.patreon.com/princessalethea