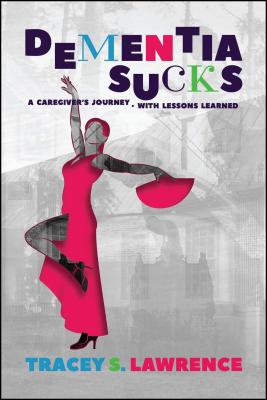 Dementia Sucks
A Caregiver's Journey - With Lessons Learned
Paperback

* Individual store prices may vary.
Description
The surprising true story of one woman's journey through the nightmare of losing both parents to dementia, as she learns that a sense of humor is mandatory for survival.

"Not buying it, huh?" My mother acknowledged her assertion that the woman she pointed out at the rehab center as being her dead husband was a bit of a stretch. But this was the kind of conversation I had with Mom as her cognitive abilities declined and her psychosis fully bloomed.

The true, heart-wrenching, and yet hilarious stories at the center of Dementia Sucks were borne of a journal and blog that author Tracey Lawrence kept as her mother transformed from classic Jewish mother, to mildly forgetful Floridian grandma, to geriatric delinquent removed by police for knife-play at a rehabilitation facility. Really.

Tracey's journey takes her from being an established graphic artist in northern New Jersey through bouts of full-time, hands-on caregiving of both her aging parents. She discusses many of the common challenges families face, and provides a humorous and highly educational perspective on her emotionally charged ride through geriatric illnesses, doctors, hospitals, insurance, facilities, family dynamics, and much more.

Anyone who has family members they care about will want to read this book. Whether dementia visits or not, some aspect of Tracey's caregiving journey will likely resonate with, amuse, and enlighten you. The trick to surviving loss after loss is to find the humor in it all and avoid punching anyone, least of all yourself. This irreverent look shows you the way.
Praise For Dementia Sucks: A Caregiver's Journey - With Lessons Learned…
"When I face the challenges in my life, I use journaling as an outlet for my thoughts and emotions. Never before have I read someone else's, until now. Dementia Sucks is a revealing journal-based story exploring the rapid decline Alzheimer's brings about. For all the horror of this disease, the journey of this book reveals something beautiful. You will discover the humanity, the joy, and the hope that is ever present, even in the darkest hour with tears streaming down your face."
— Mike Michalowicz, author of Profit First

"Dementia Sucks says it all in two words. But if you are looking for answers to what is happening with someone you know who seems to be in slow mental descent, or has been diagnosed with dementia, Tracey Lawrence has left a brave, revealing, and valuable diary in your path. Pick it up and read it. You will find humor, pain, honesty, answers, and proof you are not alone. It is on one hand a manual for the multitudes coming to grips with this broad category of brain disease, on the other hand, a love story. Thank you, Tracey, for sharing your courageous tale."
— Gary Donatelli, producer, 23 Blast and director of One Life to Live
Post Hill Press, 9781682616710, 256pp.
Publication Date: May 15, 2018
About the Author
Tracey S. Lawrence had a successful career in graphic arts when she became her father's caregiver in 2003 until he died in 2004. She then became her mother's caregiver until her death in 2015. As a result of her experience handling her parents' financial, health and caregiving concerns, Lawrence founded GrandFamilyPlanning, a membership organization that works with families seeking help related to parents, children, health issues and protection of assets.
or
Not Currently Available for Direct Purchase