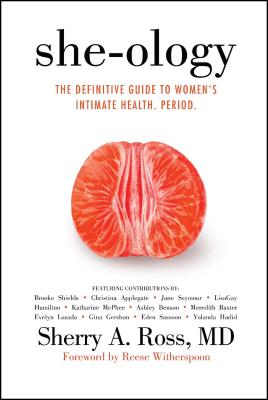 She-ology
The Definitive Guide to Women's Intimate Health. Period.
Paperback

* Individual store prices may vary.
Other Editions of This Title:
Compact Disc (6/20/2017)
Hardcover (4/25/2017)
Description
#4 Most Life-Changing Wellness Book of 2017

As seen in Women's Health and on The Rachael Ray Show!

She-ology shines a light on the vagina, answering our most embarrassing questions with the goal of healthier and happier vaginas for women of all ages.

Many women still suffer a long-ingrained dissociation with their own vaginas and a misunderstanding of what goes on "down there." With expertise and a dose of humor, leading ob-gyn, educator and women's health advocate Dr. Sherry Ross addresses every urgent, confounding, culturally taboo or embarrassing question women have about vaginas, with the goal of healthier, happier lives for all.

She-ology describes the state of the vagina at every age and stage of a woman's life. From first periods to postpartum to menopause, from the serious to the celebratory to the surprising, this book will make you feel a part of the vagina dialogue.

Dr. Sherry is equal parts your best girlfriend, confidant and skilled practitioner with over 25 years' experience in gynecology and obstetrics. With the help of many famous contributors she answers your questions and concerns such as:

• Where the heck is my G-spot?
• Since the vagina is self-cleaning, do I even need soap?
• Can I get HPV if I don't have actual intercourse?
• Is it too late, at 45, to have an orgasm?
• How can I be depressed after giving birth if I've always wanted a baby?
• Is there such a thing as a perfect vagina?
• I enjoy swinging or S & M, does that make me a pervert?
• What does safe sex even mean?
• What could possibly go wrong down there, and what do I do about it?

Dr. Sherry's goal is that of healthier and happier women through a revolution of vagina information. This book will help you form, mend or strengthen your relationship with that most commanding and complex of female organs—the vagina.

Includes contributions from:
Reese Witherspoon
Brooke Shields
Christina Applegate
Jane Seymour
LisaGay Hamilton
Katherine McPhee
Ashley Benson
Meredith Baxter

…and many more.
Savio Republic, 9781682617380, 320pp.
Publication Date: February 13, 2018
About the Author
Sheryl A. Ross, MD, "Dr. Sherry," is an award winning ob-gyn, author, entrepreneur and women's health expert. The Hollywood Reporter named her as one of the best doctors in Los Angeles and Castle Connolly named her as a Top Doctor in the specialty of obstetrics and gynecology. She recently received a Patients' Choice Award for Compassionate Doctor Recognition and was named a Top 10 Obstetrics and Gynecologist.

Dr. Sherry has been featured in The Huffington Post, MariaShriver.com, Marie Claire, Cosmo, Yahoo, Redbook, The Hollywood Reporter, Teen Vogue, Fox News, Glamour, Life & Style, Parents, US News and World Report, Shape, MindyBodyGreen, Fit Pregnancy, Parenting, People, In Touch, The Daily Mail, Next Avenue, Life Script, Curve, Elizabeth Street, Modern Mom Trends, Women's Health and American Baby Magazine. She has made TV appearances on Livin' Lozada, Home & Family, Bethenny, Ice & Coco, and MTV. She also is a regular contributor on helloflo.com, gurl.com, greatest.com and allthingsmenopause.com.

Dr. Sherry received her doctorate in medicine from New York Medical College before completing her ob-gyn residency at the University of Southern California, School of Medicine, where she was honored with two teaching awards as a senior medical resident. She is married and has three sons. You can learn more about Dr. Sherry by visiting DrSherry.com and She-ology.com.