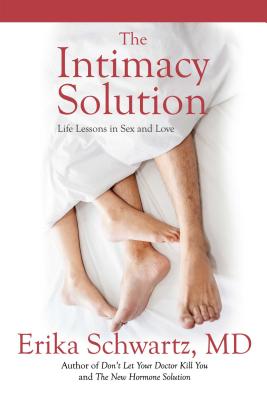 The Intimacy Solution
Life Lessons in Sex and Love
Paperback

* Individual store prices may vary.
Description
As seen on the TODAY Show and in Cosmopolitan magazine!
The Intimacy Solution
investigates
the connection between sex and intimacy at all stages of life through patient stories and research
and
explores how individual sexuality takes shape and changes over the course of the various ages and phases of life.
What exactly
is
sexuality and how does it impact our lives? In her enthralling book
The Intimacy Solution
, Dr. Erika Schwartz presents an in-depth look at how our individual sexual identities are shaped, and how the "norm" differs vastly from what social stereotypes and the media would have us believe.
In fact, Dr. Erika confirms without a doubt—
there is no norm
.
The Intimacy Solution
walks us through the "seasons" of our continuous sexual development, helping readers view sexuality through the lenses of biology, learned behaviors, personal truth, and culture. Moving beyond Masters and Johnson's unilateral approach to sexuality, Dr. Erika takes a broad leap forward to explain and shine a light on the impact of the myriad factors such as our delicate hormone balance, life experiences and trauma, and societal expectations as they come together to affect our personal belief systems in what sex and intimacy are at various points in our lives. In
The Intimacy Solution
, Dr. Erika uncovers the mystery behind the driving forces of sexuality and their impact at every stage in our lives.
how pairing sexuality with intimacy enhances emotional health and overall happiness
the direct and indelible interaction between hormones, sex and intimacy
how to overcome the loneliness, isolation, and shame associated with sexual issues, emphasizing that such problems are never unusual
the many myths about sexuality and how they affect our beliefs and behaviors…and much more.
Sexuality is one of the most complicated and least understood aspects of our lives. Drawing on the personal experience of thousands of patients as well as medical expertise, research, and insightful observation, Dr. Erika helps us break down the barriers keeping us from our personal growth, truth, and identity, as well as the intimacy and passionate abandon associated with the profoundly defining force of human sexuality and the connection to intimacy and love.
Post Hill Press, 9781682617465, 320pp.
Publication Date: June 5, 2018
About the Author
Erika Schwartz, MD, is an internationally acclaimed healthcare pioneer and key opinion leader in the field of prevention, hormones, and concierge and patient-centric medicine. A consummate clinician and patient advocate Dr. Schwartz has cared for more than fifty thousand patients over forty years and is a highly sought after public speaker. Dr. Erika's groundbreaking book exposing the truth about our flawed health care system and empowering patients to take control over their own healthcare, Don't Let Your Doctor Kill You was published in November 2015 and The New Hormone Solution was published in May 2017.

Combining a Renaissance European upbringing, American education, passion for the patient, kindness, and common sense, Dr. Erika is the founder of Evolved Science, a concierge medical practice in New York City focused on exceptional and respectful patient services. Dr. Schwartz received her undergraduate degree with honors from New York University and her MD from SUNY-Downstate College of Medicine, Cum Laude. She is a member of Alpha Omega Alpha honor society and past president of the Board of Managers at SUNY-Downstate College of Medicine.

Dr. Erika is world renowned for her expertise and leadership in the conventional use of bioidentical hormones for women and men; supplements; patient advocacy; integration of diet, exercise, lifestyle; stress and relationship management and spiritual growth in all patient care. She is a firm believer the doctor's role is to serve the patient. She believes public health and individualized care cannot be used interchangeably to improve our healthcare system and treat patients correctly.
or
Not Currently Available for Direct Purchase