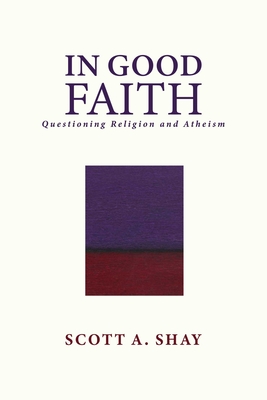 In Good Faith
Questioning Religion and Atheism
Hardcover

* Individual store prices may vary.
Other Editions of This Title:
Paperback (6/16/2020)
Description
Religion can be both inspiring and distressing. And many critiques of it are simultaneously compelling and dubious. Shay examines atheist arguments with a refreshing modern eye in this comprehensive look at our most fundamental questions about faith and reason.

"At the heart of In Good Faith: Questioning Religion and Atheism is the enduring question of the value of living a religious life. The book begins over a sushi dinner, when Scott Shay's business acquaintance, a self-proclaimed atheist, ridicules belief in God and places scientific progress as our guidepost for improving the world. Shay chooses not to defend God over appetizers; instead, he has shared his response in what he calls a 'book on rational belief in God.'

"The book covers forty-one chapters, broken down into six parts, all of which explore the common arguments of atheists. Shay begins by exploring the difference between monotheism and idolatry, highlighting how the modern model for moral behavior is built on the Abrahamic faiths. Idolatry, he claims, is the enemy of morality and the practice against which atheists should direct their criticism, as it leads to the 'widespread exploitation of the many by the deified few.' Monotheism as reflected in the Bible, Shay contends, 'provided nothing less than a template for a radical revolution in how man related to God, other men, and the world.'

"In Good Faith continues with a discussion of the value of free will, though Shay admits it opens the door to evil. In section four, Shay questions the challenge to prove or disprove God's existence and role in creation; in section five, he discusses the historical accuracy of the Bible. In the book's final section, Shay suggests that both rejection and acceptance of God's existence require a leap of faith.

"Recognizing that he's most comfortable with the Hebrew Bible and the Jewish tradition, Shay sought out Muslim and Christian thought leaders in order to better understand how the other Abrahamic religions might answer the questions raised in his book. Excerpts from these conversations, which reveal an extraordinary depth of religious conviction, enhance Shay's arguments in favor of religion.

"In Good Faith is a fresh reworking of a perennially challenging subject. Shay's thoughtful and accessible writing style will make the book engaging to a wide variety of readers."

—Jonathan Fass, Chief Operating Officer of Jewish Family Service (Stamford, CT), for the National Jewish Book Awards, Jewish Book Council
Praise For In Good Faith: Questioning Religion and Atheism…
"I can't think of another book with which I disagree so strongly that has engaged me as deeply as this one. Scott Shay makes the case for religious belief with deep scholarship, clear logic and great civility. It would be wonderful if other advocates on both sides would take up this discourse in a similarly civil manner."
— Barney Frank, Former Member of the House of Representatives

"In Good Faith is an extraordinary and beautifully written book, which offers an important new perspective. In Good Faith set the stage for a fruitful dialogue between believers and nonbelievers in the discussion of faith and scientific rationality. Scott Shay argues that monotheists and atheists can be on the same side and combat idolatry together. His definition of idolatry as a dangerous deification of finite beings and the ideas clarifies that modern rational critiques of religion can actually be helpful in clearing monotheism of its idolatrous streams."
— Monsignor Tomas Halik, Professor of Sociology, Charles University and President of Czech Christian Academy

"This book is an inspired and profound exposition on the pitfalls of the idolatries of our age. What a remarkable manifesto on the rationality and indeed the beauty of faith as well as the ugliness and betrayals of idolatry! I hope that my fellow Muslims will give this book a fair hearing. It will only strengthen their own faith in the One and Only God who we all worship."
— Dr. Khaled Abou El Fadl, UCLA School of Law

"Sit down with Shay as he speaks of his faith, and the reason he is a serious Jew. Here is an honest account of how a modern person finds meaning and purpose in a thoughtful consideration of ancient texts."
— Professor Laurie Zoloth, Dean, The University of Chicago Divinity School

"Scott Shay has written a vigorous, well-informed and highly readable defense of faith in a secular age. Impressive in its scope and depth, it should be read by Jews, Christians, and Muslims, as well as skeptics, for they will find in it the reflective wisdom of one who has thought long and hard about the human struggle against idolatry in all its forms."
— Rabbi Lord Jonathan Sacks, Professor of Law and Ethics, Kings College

"Friedrich Schleiemacher's On Religion: Speeches to Its Cultured Despisers (1799) took on the major arguments of the enlightened intelligentsia of his day. He, thereby revived Christianity and enabled it to thrive in the rise of reason and science. So Schleiemacher is known as the father of modern theology. Scott Shay's In Good Faith has picked up that historic baton and bridges believers with non-believers, of all religious persuasions, into a compelling 21st century story about why faith matters for healthy human communities today."
— Professor Dwight N. Hopkins, University of Chicago Divinity School

"In Good Faith is a tour-de-force! Scott Shay considers a wide array of scholarly and popular arguments, sources, narratives, and conversations regarding religion, morality, and text in making a modern case for the plausibility and rationality of religion. In reading through its pages, I felt I was examining a 21st Century companion to Schleiermacher's classic On Religion: Speeches to Its Cultural Despisers. Written in a clear and engaging fashion, In Good Faith will deservedly capture the attention of thoughtful persons interested in questions of faith and doubt, good and evil. I recommend highly!"
— Rabbi David Ellenson, Chancellor Emeritus of Hebrew Union College-Jewish Institute of Religion

"Scott Shay invites you to a friendly but serious conversation with someone who is honest, learned, and sincere on a topic that requires far more nuanced exchanges than mere tweets and sound bites at a time when idolaters, both atheists and monotheists, are misusing and misrepresenting religions, misinterpreting and misappropriating the Bible to further their base ambitions while ignoring God's rational and compassionate visions for humanity and the world that are articulated in the Bible and practiced and valued by rational and modern believers. Whether one is a skeptic, Jew, Christian, Muslim, atheist, humanist, spiritual but not religious, or non-affiliate, you are in for an intellectual and spiritual treat if you dare to be open and honest about your own rationale for and experience of your belief or unbelief."
— Professor Uriah Y. Kim, Dean of Graduate Theological Union

"Scott Shay, in a deeply personal, yet academically rigorous study, shows why it is rational to believe in God, especially in this modern era. Modernity is deeply grounded in the great monotheistic religions, which created and inspired societal structures that value equality, justice, morality, ethics and care for the needy. This book defends those foundations against the common atheist argument that our modern values have emerged from secularism. Shay demonstrates why both faith and reason are necessary in our era. Whether from the political left or right, deeply religious or secular, readers will benefit from Shay's insights as to how good faith can help heal our fractured society."
— Patrick McHenry, Congressman, North Carolina

In Good Faith is written with sincerity, honesty and intelligence. The book presents ideas in a straightforward manner without overbearing theological and philosophical language and without a dogmatic tone. In Good Faith reveals a depth of knowledge by Shay of the religious situation in contemporary Western Society and especially in America. I hope that many readers take advantage of this resource. They will be intellectually rewarded for having done so."
— Professor Seyyed Hossein Nasr, Islamic Studies, The George Washington University

"Meticulously researched, Scott attempts to answer the age-old question; whether you can be a person of science and reason and a believer in God. Scott answers that question with a resounding yes. The reader of this book will have an opportunity to examine their own faith journey and square their understanding of the rational world with our spiritual selves."
— Heidi Heitkamp, US Senator, North Dakota

"Scott Shay brings an important contribution and perspective to the current cultural conversation regarding religion and atheism. Well researched and engagingly written, In Good Faith reintroduces discussion surrounding a term we don't hear much of anymore...'Idolatry.' The author has done extensive research across a wide range of viewpoints, and presents rational and compelling arguments that any thinking person will be forced to reckon with. I believe this volume will give clarity and voice to those who feel that religion is 'under assault.' I highly recommend this book!"
— Pastor Robert Stearns, Executive Director, Eagles' Wings NY

"Scott Shay has written a remarkable, inspiring and informative book that offers a serious and sustained alternative to the common, familiar way of defending the reasonableness of transcendental faith. The argumentative strategy adopted by the Author relies on showing that present-day neo-atheism, by conflating idolatry and monotheism, is unable to understand why and how monotheistic religions radically break with idolatry, the root of evil. Written in a non-technical language accessible to non-specialist readers, In Good Faith argues that the three religions of the Book, far from constituting an impediment to the advancement of scientific knowledge, actually encourage it. This finely argued book will enhance the use of the Bible in a variety of fields. It is essential reading for economists concerned with the foundations of their discipline and for policy makers seeking to cope with the challenges of the so-called hyper-modernity, as well as for historians, moral philosophers and theologians. Through a careful theological, exegetical and hermeneutical method, Scott's account is at once timely, novel and provocative. A captivating read."
— Professor Stefano Zamagni, Economics, University of Bologna and Pontifical Academy of Social Sciences

"Kudos to Scott Shay for tackling atheism's staunchest and most vocal adherents with sensitivity, accessibility, humor and intelligence. His is a committed voice of faith, shaped by erudition and experience, unafraid to stand up for his convictions in a time of persistent doubt."
— Dr. Erica Brown, Associate Professor, George Washington University School of Education and Development and Director, Mayberg Center for Jewish Education and Leadership

"Scott Shay sets out to prove that one could believe in God and read the Bible as a modern and rational person. In a lucid and engaging fashion - using sources ranging from Hammurabi to Plato to Constantine to Shakespeare to Freud to the Maoir - he tackles the concept of idolatry, the morality of the Bible, the problem of evil, the existance of God, the historicity of the Bible, and faith and prayer. I believe that line by line, chapter by chapter, Shay has not only given the New Atheists a run for their money, but has emerged victorious. In Good Faith is a tour de force."
— Rabbi David Golinkin, Professor of Talmud and Jewish Law, The Schechter Institute; President Emeritus, The Schecther Institute, Jerusalem; President, The Schechter Institutes, Inc., Jerusalem

"In Good Faith should encourage those who believe in God that their faith is well founded and rationally consistent; while challenging atheists to reexamine the rationality of their own position."
— Rev. Dr. John Carlini, President of the Center of Spiritual, Personal, and Relationship Growth

"In his book In Good Faith, Scott Shay reminds us that faith is as much a journey of the mind as of the heart. Shay's passion for defending religion and belief is rigorously argued with traditional texts, excerpts from conversations with religious leaders, and anecdotes from his life experiences."
— Rabbi Deborah Joselow

"Scott Shay invites everyone to the table: Jews, Christians, Muslims, scientific rationalists, and skeptics of all stripes. But it's for the serious purpose of showing how belief in God of the Abraham religions can be an ally of scientific inquiry and efforts to build bridges of understanding in today's multi-religious and secular age. Undergraduates and adult learners in faith communities will find here much food for thought, as well as some delightful storytelling."
— Bishop James Massa, Catholic Diocese of Brooklyn, Former Executive Director of the Secretariat for Ecumenical and Interreligious Affairs, United States Conference of Catholic Bishops

"Shay presents a sensitive reading of the Hebrew Bible. Using stories from his own life and from history, he argues persuasively that we must all join forces to resist the evils of idolatry in our own time."
— Claire E. Sufrin, Associate Professor of Instruction and Assistant Director of Jewish Studies, Crown Family Center for Jewish and Israel Studies

"Scott A. Shay has made an invaluable contribution by his most readable and logically compelling In Good Faith. He demonstrates why the Bible is still - after thousands of years - one of the most well read books in every generation, why to be a religionist is at least as relevant and intellectually satisfying in our modern age as it is to be an atheist and how belief in God can direct an intelligent and sensitive person towards a more meaningful and ethically-charged life. It is a must-read, especially for every sensitive young adult thinking about how to live his or her life!"
— Rabbi Shlomo Riskin, Founder and Chancellor of the Ohr Torah Stone Institutions

"Scott A. Shay is neither an academic nor a theologian, but he thinks and writes like one. A banker and philanthropist, he could have been a lawyer as well, presenting a formidable defense and a critical, rational analysis of faith and reason to eliminate the idolatry within them. With a touch of humility and a sense of humor, with a multidisciplinary perspective, he takes us on an intellectual journey towards believing in God and reading the scriptures in good faith. Through In Good Faith, Scott A. Shay 'places us at the intersection of what needs to be done and what we can do to achieve a better world in light of perfect truth.'"
— Professor Saliba Sarsar, Political Science, Monmouth University

"Monotheism has generated astonishing leaps of ethical consciousness from Moses to Rumi to Martin Luther King Jr for reasons this book seeks to understand. This book contains the foundational truths as to why a Monk, Imam, Rabbi or Bible Rapper would dedicate their lives to Ethical Monotheism. In my work as an educator, I encounter people daily who struggle with their faith. Shay's book will give them doubts about their doubts."
— Matt Bar, Bible Reporter and Educator

"In Good Faith is extremely powerful and thought provoking and is a must read for anyone interested in trying to comprehend the interchange between religion, society and social justice. In highlighting how actions in the name of religion have been abused, he dissects the real difference between belief, atheism, and idolatry and thereby provides a fresh, new take on these conversations which were previously stuck in a rut. Scott Shay, systematically in easy prose untangles the misconceived perception that religion lays at the root of idolatry, of self-interest, self-enrichment and aggrandisement and shows that the reverse is true. Shay successfully describes how religion has been misinterpreted and abused to justify the behavior of idolatry in the name of religious piety."
— Nicholas Wolpe, CEO, Liliesleaf

"While a nearly infinite number of books could be written on the controversies of religion, this one strikes a unique path. The author utilizes a friendly, comical tone, as when, for instance, he imagines Joseph posting images of his coat of many colors on Instagram. The work also neatly intertwines disparate sources that range from the philosopher David Hume to the Babylonian Talmud.... A highly readable, if not always convincing, defense of monotheism."
— Kirkus Review
Post Hill Press, 9781682617922, 560pp.
Publication Date: September 4, 2018
About the Author
Scott A. Shay has had a successful business career spanning Wall Street, private equity, venture capital, and banking. He co-founded Signature Bank of New York and has served as its Chairman since its formation. He has been a provocative commentator on many financial issues, including among others, how the banking system should best function to help society, the implications of a cashless world, and tax reform. Scott called for the re-imposition of Glass-Steagall and breaking up the big banks at a TEDx talk at the NY Stock Exchange in 2012. Throughout his life, he has been a student of religion and how religion ought to apply to the world outside of the synagogue, church, or mosque. In addition to authoring articles relating to the Jewish community, Scott authored the best-selling Getting Our Groove Back: How to Energize American Jewry (Second Edition, Devora 2008).