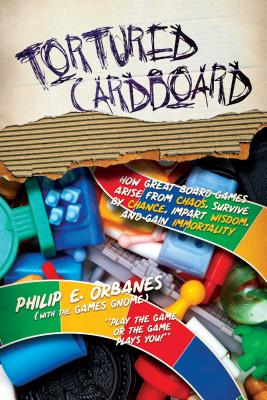 Tortured Cardboard
How Great Board Games Arise from Chaos, Survive by Chance, Impart Wisdom, and Gain Immortality
Paperback

* Individual store prices may vary.
Description
Be enlightened and entertained. Be prepared for irreverence. Come on this journey through time and witness how these games came to be, why they flourish, and what you can gain by applying their "secrets."

The term "tortured cardboard" sums up what happens to cardboard when making a board game (bound, cut, folded, punched). And, as you'll learn, great board games often reflect whatever "tortures" culture. Each gained immortality after a chaotic beginning and a chance survival. Why? Because—be it chess, backgammon, Clue®, Monopoly®, Scrabble®, Settlers of Catan®, or one of ten others featured in this book—each is replete with "lessons" applicable to achievement in your life.

As the twenty-first century gathers momentum, our love affair with board games continues to strengthen. They involve us, they refine social skills, and they teach great lessons applicable in real life.

"Tortuous" is the journey of every great board game, from birth in chaotic times, through survival by mere chance, to raging popularity and eventual immortality. Tortured Cardboard reveals how the great ones came to endure and—all fun aside—how each teaches us something about our own behavior while providing "rules" that can work in your life.
Praise For Tortured Cardboard: How Great Board Games Arise from Chaos, Survive by Chance, Impart Wisdom, and Gain Immortality…
"...Tortured Cardboard is out of the ordinary, a real page-turner, and entertaining and playful in the best sense."
— Spielbox Magazine
Permuted Press, 9781682618530, 320pp.
Publication Date: July 23, 2019
About the Author
Philip E. Orbanes began inventing games at age eight after playing Monopoly for the first time. He started his own game company as he entered college and sold it to a New York toy company before he graduated. Phil has been in the industry ever since, including three years running Ideal Toy's game division, eleven years as Senior VP of Research & Development at Parker Brothers, and twenty-five years as co-founder, president, and director of Winning Moves Games—the leading maker of classic games sold through specialty retailing. Since 1979, he has served as chief judge at US and World Monopoly Championships. He has been interviewed dozens of times, and appeared on TV and in print (most recently in Think magazine).