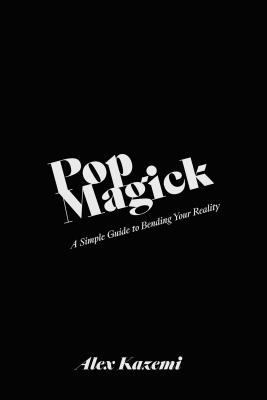 Pop Magick
A Simple Guide to Bending Your Reality
Hardcover

* Individual store prices may vary.
Description
"Alex Kazemi has his finger on the pulse of magick and all its wonders." —George Noory, Host of Coast to Coast AM

"We live in dangerous times. We are all subject to unseen forces—social, technological, biological—that have programmed and conditioned us, like Pavlov's dogs, to behave without thinking. The way out of this maze is difficult. Pop Magick is an exciting and unconventional attempt to help us all deprogram, through methods culled from primal sources in magic and alchemy. This in the tradition of people like Gurdjieff and Colin Wilson, the tradition of trying to wake us up from our slumber. You have nothing to lose but your chains." —Robert Greene

"Alex Kazemi is a boy wonder." —Shirley Manson

"My favorite millennial provocateur." —Bret Easton Ellis

"I want to heal. This book should help me along my treacherous path to better understanding myself." —Bella Thorne

FROM STRUGGLING ARTIST TO ILLUMINATI PRINCE

How did counter-culture pop artist Alex Kazemi, a self-described "kid from the suburbs," get Taylor Swift to invite him backstage, Marilyn Manson to tweet about his directorial debut, Selena Gomez and Petra Collins to collaborate with him on a magazine piece, and Madonna to express excitement over a magazine cover he created? Magick!

"Can a small step change your life? Of course it can. Alex Kazemi provides a treasure map of simple yet revolutionary possibilities which, if practiced with passion, can lead you to magick, self-discovery, and more rabbit holes than you can dive into." —Mitch Horowitz, PEN Award-winning Author of Occult America and The Miracle Club

MAGICK IS REAL

Talent is great if you have it and luck is fine if you can find it, but Kazemi learned it would take something more to see his dreams come true. It would take magick—a real, spiritual force that anyone can learn to harness.

"There's never been a better or easier time to work magick. Whereas past generations of witches and warlocks had their potions, their Tarot cards, and their superstitions, today's magician has a laptop, an iPhone, and Twitter. But how to harness these modern tools? That's where Alex Kazemi's Pop Magick comes in. He's read all of those dusty, old occult books so you don't have to! All you have to do is pick up Pop Magick and start reading. Who knows what'll actually happen to your brain once you've finished it." —Richard Metzger, dangerousminds.net

"This book will help you discover tools that expand your consciousness and manifest your deepest desires. I'm happy to see that Transcendental Meditation is part of Alex's journey to find strength in the stillness within." —Bob Roth, author of Strength in Stillness

YOU HAVE THE POWER WITHIN YOU

Magick isn't a treasured secret for a privileged few. It's meant for everyone. It's meant for you. Are you ready to bend reality? Do you want to get out of The Simulation? Do you want to unlock your creative potential? Do you hunger for a more spiritual life? Magick promises you this and more. Follow Alex on his own journey from a troubled outsider to an enlightened young man as he shares the secret power of Pop Magick.

"Held in your hands is powerful, proactive magick that can change your life for the better and awaken you to extraordinary abilities you might once have considered fantasy. Alex Kazemi is the most exciting and authentic voice bridging ancient wisdom and the modern world today. You won't regret reading this book." —Fiona Horne
Praise For Pop Magick : A Simple Guide to Bending Your Reality…
"Every so often a new face emerges as the ambassador to witchcraft. Pop Magick is a modern-day handbook that skills readers on how to break societal chains and bend reality in their favor using natural forces."
— Interview Magazine

"Magick is back. Alex Kazemi not only deftly translates but passionately recontextualizes the power of life-as-sigil for a new generation of practitioners. It may not be an easy path, but Kazemi sure has made it accessible."
— Douglas Rushkoff
Permuted Press, 9781682618806, 208pp.
Publication Date: February 18, 2020
About the Author
Alex Kazemi is a pop artist, creative director, and author. His work has been featured on Apple Music, Dazed, i-D, Playboy, Resident Advisor, King Kong, V Magazine, Paper, and Oyster, among others. He served as Features Editor for the inaugural edition of King Kong Garçon. He lives in Vancouver.