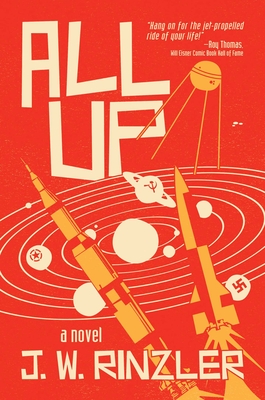 All Up
Hardcover

* Individual store prices may vary.
Description
Bestselling Star Wars author and former Lucasfilm creative executive J. W. Rinzler combines actual and speculative history in a sweeping re-creation of the dramatic race to develop rockets, dominate the skies over Earth, and explore our Solar System—an epic that rages through World War II and culminates with the Apollo 11 mission to the Moon.

"With its fascinating personalities that only Rinzler could describe, All Up can't be put down."—David Mandel, Veep executive producer

All Up plunges its readers into the cloak-and-dagger espionage and blitzkrieg battles of World War II that swirled around rocketry; it introduces them to extraterrestrial phenomena, secret organizations, and the nail-biting missions launched from Cape Canaveral—as well as the secrets and unknown history behind Apollo 11's legendary trip to the Moon.

All Up tells the incredible true story of Nazi Germany's Wernher von Braun, Soviet Russia's Sergei Korolev, and America's Robert Goddard as they work feverishly to fulfill their countries' technological, military, and geopolitical objectives while satisfying their own personal obsessions. Alongside the Space Age history is the strange but well-documented trail of UFOs—one that leads to a desperate struggle in the highest corridors of power. Who will control the alien technology for their hidden agendas during the Cold War? Secret services compete worldwide in that ruthless game—and no one is a more deadly player than the mysterious agent named Rachel, hot on the trail of war criminal, former SS Brigadeführer Hans Kammler.
Praise For All Up…
"With its fascinating personalities that only Rinzler could describe, All Up can't be put down."
— David Mandel, Emmy-award winning writer/executive producer, "Veep" and "Curb Your Enthusiasm"

"All Up is an exceptional book that takes the reader beyond the usual descriptions of the challenges and achievements of the first Space Age, by describing the human reality behind the extraordinary efforts of intelligence and will that made it all possible. Imagine if we could meet Wernher von Braun, Jack Parsons, and Sergei Korolev, and hear them speak about their lives, their failures and hopes and their eventual successes. That is the story told in All Up, a timely contribution at the moment America is seriously considering a return to the Moon, and a valuable guide to the stunning voyages to come."
— Dr. Jacques F. Vallée, computer scientist, winner of the Jules Verne Award for science-fiction

"J.W. Rinzler ingeniously weaves together the stuff of history and science-fiction, what really happened and what seems both fantastic and yet almost possible. So hang on for the jet-propelled ride of your life—you won't want to stop till you find out how it all comes out!"
— Roy Thomas, member Will Eisner Comic Book Hall of Fame

"All Up reminds me in some ways of the great novels by James Michener and Leon Uris that teach us history in a fictional manner."
— David Chudwin, author of "I Was a Teenage Space Reporter: From Apollo 11 to Our Future in Space"

"Meticulously researched and eloquently written, All Up is a ground-breaking historical novel that delves deeply into humankind's imperative journey to the Moon—and beyond. A provocative tale of the incredible personalities who fought their way through World War II up to Apollo 11, Rinzler's rich tapestry weaves together visionary rocket engineers, warmongers, star-gazers, sky-watchers, astronauts, and occultists—and is a worthy companion piece to Thomas Pynchon's Gravity's Rainbow."
— James Luceno, NY Times best-selling author of "Plagueis"

"All Up is an operatically composed, genre-kaleidoscope of fantastic news items, stories, historiography, anecdotal memories, film snap-shots, and biblical testaments, developed into a fabulous novel narrative... If Stanley Kubrick wove his 2001: A Space Odyssey to the music of Richard Strauss, Rinzler's has the Faustian spirit of Wagnerian opera in it."
— Dr. Hans Volker Wolf, Director of Goethe Institute Malaysia, Senior Lecturer at University Malaya

"Rinzler's behind-the-scenes account of the first Space Age may be fictional—but so many things about it ring true. An inspirational page-turner! A beautifully written account of a groundbreaking era of space history."
— Roger Christian, author of "Cinema Alchemist" and Academy Award-winner
Permuted Press, 9781682619018, 624pp.
Publication Date: July 14, 2020
About the Author
J. W. Rinzler has authored more than a dozen books, three New York Times bestsellers, and a London Times bestseller, including the #1 bestselling graphic novel, The Star Wars. A prolific writer who worked closely with George Lucas, he was executive editor at Lucasfilm for fifteen years.

Known for his recent books on cinema—The Making of Planet of the Apes and The Making of Alien—Rinzler has written his first historical-fiction thriller.

He grew up in New York City and Berkeley, California; he is married, has two adult daughters and one grandson (so far), and lives on the Northern California coast.