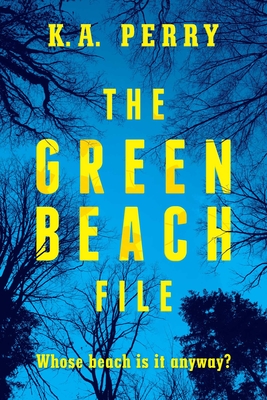 The Green Beach File
Paperback

* Individual store prices may vary.
Description
A funny, engaging legal mystery for all those who love and enjoy nature—and reading at the beach.

First, an amphibian expert is found murdered in the fancy shoreline town of Mayfield, Connecticut. Then, a second, shocking murder of a well-respected community leader occurs. Why are there murders happening in a town as peaceful as Mayfield?

Jenn isn't the perfect clever attorney. She doesn't love her job, has no innate ability to solve mysteries, no superpowers, and no awesome legal skills. But she does have her love and respect for nature—which tends to distract her from her legal work, yet still somehow guides her. Along with her entertaining and dysfunctional family, Jenn weaves her way into the midst of a momentous fight over land preservation.

The murders appear to be tied to the development of the largest parcel of pristine beachfront land between Boston and New York. Most folks in Mayfield want the unique beachfront preserved for the public and object to the construction of expensive homes, but are any of these folks extremist enough to murder for the environment and save coastal land? And how much will Jenn stretch the law to solve the mystery?

The Green Beach File touches on the solace we as humans get from time spent outside in nature, the social pressure of today's environmentalism, and our culture's continued quest for meaning through overt consumption and the acquisition of wealth—all while remaining a light-hearted summer read for those who love nature, the outdoors, and relaxing on the beach!
Praise For The Green Beach File…
"Both timely and timeless, The Green Beach File is an environmental thriller extraordinaire. Perry's sterling debut reminded me of James W. Hall's Thorn novels, similar in both theme and style. The notion of a sleepy small town rocked by a series of murders may not be new, but in Perry's polished and steady hand, it feels fresh and original. The Green Beach File is perfect for, well, the beach or a cold winter's night, establishing Perry as New England's literary environmental crusader, a northern version of the great Carl Hiassen."
— Jon Land, USA Today Bestselling Author of the "Murder, She Wrote" Series

"As a true crime expert, I can tell you with certainty, Perry's debut novel feel 'real.' Her knack for storytelling and character development is uncanny—making The Green Beach File a must read for anyone in the mood for a top-notch environmental thriller."
— Jon Leiberman, Author and Former National Correspondent on "America's Most Wanted"

"Karen Perry's strong debut The Green Beach File has it all—a shocking murder, a twisty plot, strong characters, and a storyline that stays with you."
— Barbara Ross, Author of "A Maine Clambake" Mystery Series and the "Jane Darrowfield" Mystery Series

"Karen's book, The Green Beach File, is an enjoyable read. Having grown up in the town the book takes place in made it that much more fun. I loved recognizing landmarks, but that's not the only thing. Well-written and well-researched, Karen is an accomplished writer. Don't miss this one."
— C. Jennings Penders
Permuted Press, 9781682619070, 272pp.
Publication Date: July 7, 2020
About the Author
K. A. Perry is an attorney and math teacher in a small town in Connecticut. She has four children, three cats, two jobs, and one husband, which makes for a busy life! She tries to recycle but hates washing out the peanut butter jar.
or
Not Currently Available for Direct Purchase