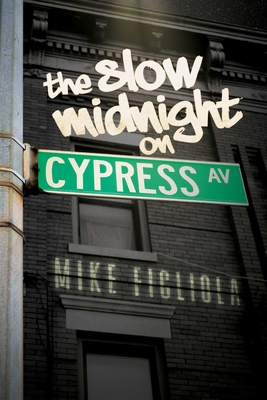 The Slow Midnight on Cypress Avenue
Paperback

* Individual store prices may vary.
Description
"Mike Figliola's The Slow Midnight on Cypress Avenue is a street level gaze at Queens, New York in the offbeat tradition of Henry Miller and Charles Bukowski. There is a raw honesty to this three-part novel which kept me spellbound. Figliola is an irrepressible writer with the heart of a poet and the eyes of a journalist. Highly recommended!!—Douglas Brinkley, Editor of Windblown World: The Journals of Jack Kerouac and Literary Executor of the Hunter S. Thompson Estate

So, who are these irregular regulars of Cypress Avenue?

Set over the course of one Sunday, The Slow Midnight on Cypress Avenue is a collection of interconnected vignettes that takes the reader through the streets and across sidewalks of Cypress Avenue—an unkempt afterthought, just a place that sits at the neighborhood border edge of Ridgewood Queens, NY.

The three-part book—broken into Morning, Afternoon, and Night—introduces you to the irregular regulars of the human race.

There is the soft and strange relationship between the eccentric Samuel Jean and a young girl of Puerto Rican descent named Desponda "Dezzy" Rivera. There's "Old" Goldie Samuels, a washed-up relic who spends her days spinning yarns and getting free drinks at the local liquor store. But the story is truly centered on Corporal Benjamin Zogby, a veteran who spends his days alone on his stoop watching the bus go by and wishing his love would return to him. It's his tragic fate that sends the avenue and the other inhabitants you'll meet—Earl the fisherman, Father John White, among others—into an unstoppable tailspin toward unexpected change and inner destruction.
Praise For The Slow Midnight on Cypress Avenue…
"Consistently captivating audiences with his youthful dynamism and sincerity. Mike is a natural writer and poet, and everyone who has ever read his work or heard him read it himself knows it."
— David Amram, Famed Classical Composer, Conductor, and Multi-instrumentalist

"I spent five seasons in Queens, NY, prowling center field of Shea Stadium. Mike Figliola captures the heartbeat of NYC better than any book I know."
— Lenny Dykstra, New York Times Bestselling Author of "House of Nails"

"Mike Figliola's debut novel The Slow Midnight on Cypress Avenue is the untapped prose of both people and place rarely given life in the way newcomer Figliola has accomplished. The relationships between the characters are so tangible you can almost sense their presence rise up from the pages, centered around the life of a veteran whose all-seeing eyes on his front stoop help intertwine this story of humanity, horror, aspiration, loss, and hope."
— Salena Zito, Author, "The Great Revolt" and national political reporter for the Washington Examiner and NY Post

"It's been over a decade since Mike Figliola was my producer on WOR's hit show Food Talk, but his daily witticisms, brilliant storytelling, and creative genius are as fresh a memory as my first day of school. The Slow Midnight on Cypress Avenue is the happy benefactor of Mike's years of toil as a writer. It's set in a reluctant neighborhood in Queens, New York, and features characters and stories only found in a Manhattan-adjacent 'hood' like Ridgewood. Part magic, part audacious, and always impossible to believe, Mr. Figliola keeps it very interesting on Cypress Avenue."
— Rocco Dispirito, James Beard Award-winning celebrity chef and author of "Rocco's Keto Comfort Food Diet: Eat the Foods You Miss and Still Lose Up to a Pound a Day

"Only a real Queens guy could ever have written this book. It oozes authenticity: the larger-than-life characters and egos, the gruff spoken word poetry of the dialogue, the world-weary swagger, the A train, the dope and the booze—there's just no faking this stuff. Filled with humor and heartbreak, Figs makes you feel like you're actually part of a neighborhood where nothing comes easy, but beauty abounds in gritty everyday reality."
— Elie Honig, CNN Legal Analyst and former federal prosecutor
Permuted Press, 9781682619193, 256pp.
Publication Date: August 4, 2020
About the Author
Mike Figliola is a writer, television/radio reporter, and producer who has called New York City—specifically Queens—his home for more than thirty years. He has written hundreds of poems and has read them on a regular basis at such venues as the famed Cornelia Street Café in NYC with actor John Ventimiglia and poet Frank Messina, and has been a featured poet in the Brooklyn Poet Laureate's "Brooklyn Poetry Outreach" in Park Slope Brooklyn. He has served as a producer, writer, and reporter in radio and TV on both local and national platforms.