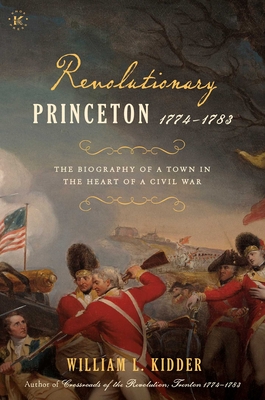 Revolutionary Princeton 1774-1783 (Paperback)
The Biography of an American Town in the Heart of a Civil War
Knox Press, 9781682619391, 384pp.
Publication Date: November 3, 2020
* Individual store prices may vary.
Description
Discover how eighteenth-century Princeton and its residents—including two signers of the Declaration of Independence—contributed to and were affected by the American Revolution.

The battles of Trenton and Princeton have been the subject of several recent books, but this story complements them by expanding the story to include the many experiences of the people of Princeton in the wider Revolution and their contributions to it. This story combines social history with the better known military and political history of the Revolution. It does not just deal with amorphous groups and institutions, but rather with individuals working with and affected by various groups on both sides of the conflict. Readers can identify with real people they get to know in the story. This story of Princeton unfolds in narrative format and, while deeply researched, reads more like a novel than an academic study.
About the Author
William "Larry" Kidder was born in California and raised in California, Indiana, New York, and New Jersey. He received his bachelor's and master's degrees from Allegheny College. A US Navy veteran with service in Vietnam, he considers teaching to be both his vocation and avocation, continuing in retirement after having taught for forty years in public and private schools. For thirty years, Larry has been a volunteer historian, interpreter, and draft horse teamster for Howell Living History Farm. He is active in central New Jersey historical societies and is an avid member of the Association for Living History, Farm, and Agricultural Museums (ALHFAM), the Washington's Crossing Roundtable of the American Revolution, the New Jersey Living History Advisory Council, and the Advisory Council for Crossroads of the American Revolution.
Praise For Revolutionary Princeton 1774-1783: The Biography of an American Town in the Heart of a Civil War…
"The story of Revolutionary Princeton is an integral part of America's founding saga, and no one is better suited to tell that story than Larry Kidder. In addition to covering the salient events there during our struggle for independence, his narrative brings the reader face-to-face with the realities of everyday life in the eighteenth century and the challenges people endured at a time of great upheaval. This is an important addition to the literature of the Revolution and merits a wide readership."
— David Price, author of "The Road to Assunpink Creek: Liberty's Desperate Hour and the Ten Crucial Days of the American Revolution"