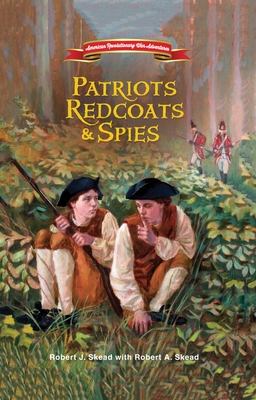 Patriots, Redcoats and Spies (American Revolutionary War Adventures #1)
Paperback

* Individual store prices may vary.
Description
Twin teenage boys go on an adventure when they discover their father has a secret message to get to General George Washington, but after being shot by two Redcoats he now has only one hope of getting that message delivered—his twin boys!

The year—1777
The war—the American Revolution
The secret weapon—twin boys

When Revolutionary War Patriot Lamberton Clark is shot by British soldiers while on a mission for the Continental Army, he has only two hopes of getting the secret message he's carrying to General George Washington: his fourteen-year-old twin boys John and Ambrose.

Upon discovering that their father is a spy in the Culper Spy Ring, the boys accept their mission without a clue about what they may be up against. They set off from Connecticut to New Jersey to find General Washington, but the road to the commander-in-chief of the Continental Army is full of obstacles; including the man who shot their father who is hot on their trail.
Praise For Patriots, Redcoats and Spies (American Revolutionary War Adventures #1)…
"Bought Patriots, Redcoats & Spies for my son. He tore through it over the weekend. Thank you for a great, patriotic read!"
— Brad Thor, Best-selling author

"I enjoyed Patriots, Traitors and Spies immensely. What a great read! I've been thinking about it all week. I am biased toward the subject and cause, but I suspect that even boys and girls with no such loyalties will find it compelling and enjoyable—and that it will cause them to want to know more about the American Revolution. This deserves to be widely read, for it will do our country and the history of its origins the important service of sparking curiosity about the War for Independence and the people who sacrificed so much to secure America's autonomy as a nation."
— Robert McDonald, Associate Professor, Department of History, United States Military Academy (West Point)

"This inspiring story isn't just for kids. I couldn't put it down and when I finished the last page I felt like I had experienced an amazing adventure and like I had reconnected with my patriotic heritage."
— Jennifer Norato, history teacher, DAR member
Knox Press, 9781682619599, 192pp.
Publication Date: August 25, 2020
About the Author
Writing was always his favorite subject, and thanks to his mother's encouragement, Robert J. Skead wrote the Caldecott-nominated Something to Prove, and several middle-grade humor tales, including Elves Can't Dunk. His latest American Revolutionary War Adventure series is based on the true story of George Washington's secret spies, The Culper Spy Ring.

When not writing, Robert J. Skead can be found entertaining children at schools. During his annual speaking circuit, Robert J. Skead speaks to more than five thousand students every year. Follow Robert J. Skead and learn more at www.robertskead.com.