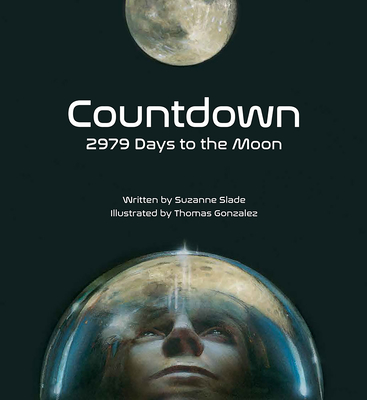 Countdown
2979 Days to the Moon
Hardcover

* Individual store prices may vary.
Description
A must-read for all NASA, space, and STEAM enthusiasts
May 25, 1961: President John F. Kennedy announces the United States will put a man on the moon before the end of the decade, and the countdown is on
Suzanne Slade's powerful free verse and Thomas Gonzales' stunning illustrations tell the true story of NASA's effort to land the first man on the Moon. An award-winning, "stirring introduction to one of humankind's most impressive undertakings."*
★ "Truly out of this world." --School Library Journal, STARRED REVIEW
★ "Captivating free-verse narrative...vivid mixed-media illustrations that stun with photographic realism and varied perspectives...this well-researched title offers a stirring introduction to one of humankind's most impressive undertakings." ―Publishers Weekly, STARRED REVIEW*
Best Children's Books of 2018 ―Smithsonian Air & Space Magazine
Recommended Space Books for Kids ―The Planetary Society
Booklist Top 10 Sci-Tech Books for Youth
Best STEM Books ―ASEE / ITEEA / NSTA / SEPA / CBC
Outstanding Science Trade Books for Students K-12 ―NSTA / CBC
Parents' Choice Gold Award
A patriotic testament to American grit and ingenuity, Countdown presents exhilarating, informative, and accessible free verse by award-winning author Suzanne Slade paired with historic photographs and detailed illustrations by New York Times bestselling illustrator Thomas Gonzalez. Together, they capture a historic and tireless, science-driven effort by NASA to conquer a new frontier.
Through triumph and tragedy, an entire nation is glued to the high-stakes, 2,979-day mission as 18 astronauts climb into spacecraft; 3 men die before even leaving the ground; 8 rockets soar into space; and 400,000 people―engineers, technicians, scientists, mathematicians, and machinists―join Project Apollo in pursuit of making a dream a reality.
A great purchase for STEM and space enthusiasts of any age, this celebrated book offers a gripping story of the successes, failures, triumphs, tragedies, and lessons learned from Apollos 1 through 10 that led to the first moon landing.
Teacher's Guide and Discussion Guide available.
Peachtree Publishing Company, 9781682630136, 144pp.
Publication Date: September 1, 2018