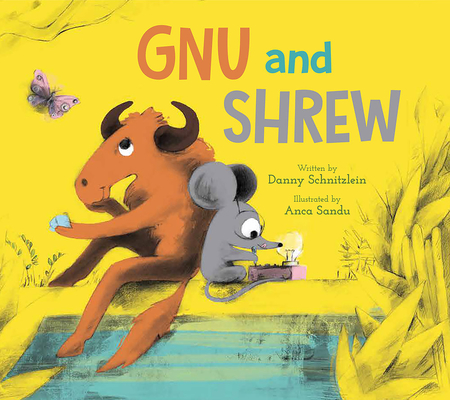 Gnu and Shrew
Hardcover

* Individual store prices may vary.
Description
Gnu and Shrew match wits while trying to reach a cave filled with diamonds in this STEM-filled twist on "The Ant and the Grasshopper."

When Gnu says that there's a cave filled with diamonds across the river, Shrew is intrigued. But Gnu seems to be all talk, fantasizing about riches yet dismissing all of Shrew's suggestions.

As Gnu dreams his days away, tossing out one big idea after another, Shrew spends his nights trying to make those dreams a reality. Will Gnu's big ideas ever be able to mesh with Shrew's hard work to make something remarkable happen?

Author Danny Schnitzlein uses deadpan storytelling to put an entertaining spin on "The Ant and the Grasshopper" that values the roles of both dreamers and doers. Anca Sandu's illustrations, rendered in pencil and colored digitally, add to the humor and whimsy.

"A refreshing demonstration of different approaches and a friendship that transcends those contrasts." —Booklist

Best STEM Books —ASEE / ITEEA / NSTA / SEPA / CBC

Also by Danny Schnitzlein:
The Monster Who Ate My Peas
The Monster Who Did My Math
Trick or Treat on Monster Street
Praise For Gnu and Shrew…
"Schnitzlein keeps readers aware of the yin and yang of the characters' relationship without judging them, employing a pleasing pattern of language and syntax—and a few unexpected twists. . . . Fun, a few surprises, and something to ponder."—Kirkus Reviews

"This is not the usual story of industry triumphing over sloth. . . .it's refreshing to see a fable in which a generous spirit mitigates the usual 'gotcha' ending." —Publishers Weekly

"Sandu's cheerful, digitally colored pencil illustrations contain plenty of amusing details, wonderfully capturing the different energies of the characters. Schnitzlein's humorous story surprises in its sympathy toward both characters. . . .a refreshing demonstration of different approaches and a friendship that transcends those contrasts." —Booklist
Peachtree, 9781682631461, 32pp.
Publication Date: October 6, 2020
About the Author
Danny Schnitzlein is an award-winning children's author whose books have been adapted into plays, and even a ballet! He studied creative writing at Eckerd College and holds a BS degree from the University of Florida. He lives in Georgia with his family and a snuggly dog.

Anca Sandu was born in the flatlands of eastern Romania. Her grandma declared her a "drawer" of perfect circles at age two. Heeding the call to be the artist of the family, she studied children's illustration at Anglia Ruskin University, in Cambridge, England, and discovered that her passion for drawing helped her overcome her introversion. She now enjoys engaging most humans nearly as much as drawing them. She's the author-illustrator of Churchill's Tale of Tails, as well as other books about pigs, good monsters, sheep, and gnus and shrews. Anca lives in Beaverton, Oregon, along with her husband and their ever-expanding book collection.