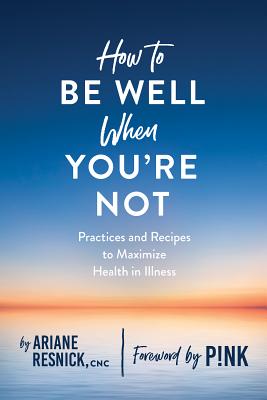 How to Be Well When You're Not (Paperback)
Countryman Press, 9781682683460, 216pp.
Publication Date: September 17, 2019
Other Editions of This Title:
Pre-Recorded Audio Player (10/17/2019)
Compact Disc (9/17/2019)
MP3 CD (9/17/2019)
* Individual store prices may vary.
Description
No matter how you feel right now, Ariane Resnick believes you CAN feel better
"From the science behind gratitude to breathing exercises, this book is a valuable tool for all who seek better health." —Terry Wahls, MD, author of The Wahls Protocol
Resnick spent half a decade seriously sick. Upon returning to health, she resolved to help others do the same. How to Be Well When You're Not is a guide to facilitating the healing capabilities of your body. It's all about the wellness mindset: the belief that you can feel better. When you believe you have the power to recover, you feel less stressed. You experience a sense of hope. You operate from a vantage point that your entire life cannot be summed up by your illness, that there is far more to you. And, according to research, your chances of recovery increase.
This is a comprehensive guide for anyone who would like a boost in attitude and well-being. Whether you're dealing with a chronic illness, occasional discomfort, or feeling the effects of aging, Resnick provides emotional coping strategies, writing exercises, physical practices, and soothing, restorative recipes to help you thrive. These are the tools to find hope and happiness despite physical challenges.
About the Author
Ariane Resnick, CNC, is a private chef and certified nutritionist. She is the author of the best-selling book The Bone Broth Miracle and has been featured by Forbes, Well + Good, InStyle, Goop.com, Huffington Post, Refinery29, Muscle & Fitness, Men's Fitness, and on Food Network's Chopped. She lives in West Hollywood, CA.
Praise For How to Be Well When You're Not…
From
the science behind gratitude to breathing exercises, this book is a valuable
tool for all who seek better health. 
— Terry Wahls, MD, author of The Wahls Protocol: A Radical New Way to Treat All Chronic Autoimmune Conditions Using Paleo Principles

Ariane
Resnick has managed to create an essential user's manual for being human. It extends far beyond people who
have obvious illnesses. This book is for everyone. Her
wisdom, experience, and depth of heart light the pages.
— Sat Devbir Singh, internationally renowned spiritual teacher

How to Be Well When You're Not is an honest, succinct, and practical guide dedicated to helping those with chronic illness find their way to healing. Resnick offers us her hard-earned wisdom to make our journey to wellness easier and more enlightened. Full of interesting anecdotes, restorative exercises, and nutritious recipes, this book is certain to empower readers with much-needed tools to employ on their quest for life's most precious gift: optimal health.

— Cherie Kephart, author of A Few Minor Adjustments: A Memoir of Healing

Whether you are trying to overcome an ailment or optimize your overall health and wellness, How to Be Well When You're Not is a must-read. Not only does Ariane provide progressive nutrition information and cutting-edge recipes, she details the recovery process from a mental health perspective, and provides step-by-step instructions for achieving true health through a multifaceted approach.

— Aimee Aristotelous, author of Almost Keto and The Whole Pregnancy

Resnick combines expert tips for optimal health, crucial information about the recovery mind-set, and wonderful wellness recipes. She shares lots of interesting scientific data to back up her writing. It's well worth exploring more!
— David Starlyte, ND

Another
great work from Ariane Resnick! She has a unique way of pulling from her
personal experience with illness and combining it with her vast knowledge of
nutrition. And she does it in a way that isn't too 'text book' for the layperson,
while still informative for the most knowledgeable of health care
professionals.
— Antonio Whiteley, LAc, Diplomat of the National Board of Acupuncture Orthopedics

How to Be Well When You're Not is a healing gem! Ariane has tapped into the most important key to overcoming illness: focusing one degree more on health than on the disease itself. She has given her readers a step-by-step guide to not only become healthy, but to become a better person. The tasty recipes remind us to trust our own instincts and enjoy eating as a natural, pleasurable, and healing endeavor.

— Nancy L. Evans, ND