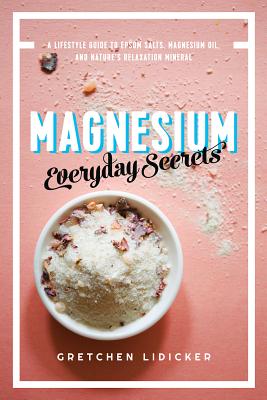 Magnesium (Paperback)
Everyday Secrets: A Lifestyle Guide to Nature's Relaxation Mineral
Countryman Press, 9781682683484, 192pp.
Publication Date: April 30, 2019
* Individual store prices may vary.
Description
Oh Mg Is there anything magnesium can't do? Often called the miracle macro- mineral, magnesium has been credited with healing everything from headaches and insomnia to depression and heart disease. Magnesium plays a crucial part in the synthesis of serotonin and dopamine, which are the important feel- good chemicals we all want in our brains. Almost everyone can benefit from more magnesium in their life, not only for their health, but also for relaxation, anti- anxiety, and quality sleep. Thirty appealing recipes offer ideas to bring magnesium into your self- care routine, from foot rubs to indulgent Epsom salt baths to smoothies, for improved mood, better sleep and digestion, and optimized health.
Recipes include:
- Detoxifying Epsom Salt and Aztec Clay Bath
- Mg Morning Smoothie with Leafy Greens, Pumpkin Seeds, and Liquid Magnesium
- Magnesium Oil Morning Fog