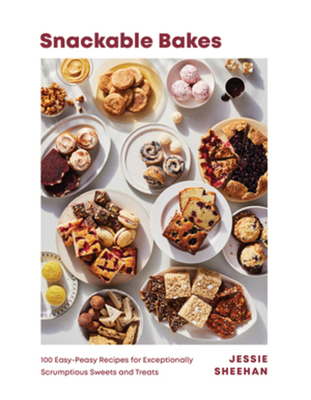 Snackable Bakes
100 Easy-Peasy Recipes for Exceptionally Scrumptious Sweets and Treats
Hardcover

* Individual store prices may vary.
Description
What is a snackable bake? An utterly scrumptious, round-the-clock treat that can be assembled in 20 minutes or less!
One-bowl, simple, fast, easy-peasy baking recipes made Jessie Sheehan's TikTok videos a hit, with millions of views and plenty of fans. Her lickety-split recipes were a game-changing addition to foodie culture when she joined the platform. Sheehan's fuss-free approach, dynamic energy, and kitchen-savvy advice are all on display in this must-have new cookbook. Here, Sheehan explodes the snackable sweets scene with 100 recipes that minimize time but maximize fun. Peppermint Stick No-Churn Ice Cream, Summer Peach Fritters, Extra Crumb Snacking Cake, Deeply Chocolaty Baked Donuts with Buttermilk Glaze and Sprinkles are just some of the treats that come to life in this crave-worthy cookbook. With vibrant photography and enviable flavors, this of-the-moment book will be loved by anyone with an impatient sweet tooth.
Praise For Snackable Bakes: 100 Easy-Peasy Recipes for Exceptionally Scrumptious Sweets and Treats…
Sheehan (The Vintage Baker), the self-anointed "queen of easy-peasy baking," brings the irrepressible enthusiasm of her viral TikTok videos to a sumptuous collection of sweet treats designed to be made in under an hour. As someone who "despise[s] cleanup," Sheehan's recipes cut out the fuss, most often coming together without creamed butter or stand mixers ("except when making... the best no-bake cheesecake you've ever had"). To streamline preparation, she sensibly suggests the sacrilege—mixing wet and dry ingredients together rather than separately—a technique that precludes over-mixing. Other clever tips include dropping half the required blackberries atop the batter for a lemon yogurt loaf cake instead of folding them in (for better fruit distribution), and adding sweetened condensed milk to crisped rice squares for extra chewiness. Notable standouts among her timesaving brownies, cookies, bars, and cupcakes include a 20-minute raspberry crumb-topped pie with a press-in dough crust, and fried summer peach fritters that can be assembled in the time "it takes your oil to come to temp." Sheehan's confectionery devotion extends beyond the oven to the likes of no-bake orange cream pie, no-churn peppermint stick ice cream, and a pillowy fool (whipped cream layered with fruit and cookies) flavored with nectarines and thyme. This excellent guide would satisfy just about any sugar craving.

— PUBLISHER'S WEEKLY, starred review

As a surprise to no one, the Queen of Baking is back at it again with another kitchen staple. Snackable Bakes is a gold mine of confectionary nostalgia and remarkably simple reinvented classics. If there's anybody who can write a cookbook that will make you want to try literally everything, it's Jessie.

— Eitan Bernath, entertainer, author, TV personality, entrepreneur

Jessie Sheehan's trademark style may be zany and breezy, but do not be fooled: this book of quick and simple bakes is full of utterly fabulous recipes, meticulously written and compiled for our ease and pleasure.
— Helen Goh, coauthor of Sweet: Desserts from London's Ottolenghi

Snackable Bakes paves the way for anyone who wants all the fun, joy, and yumminess of baking without any of the associated headache. Packed with the perfect combination of easy, creative, and classic recipes—flip through and you'll find the perfect thing to bake (right now).

— Erin Jeanne McDowell, author of The Book on Pie

If you've ever had a late-night craving for a freshly baked, still-warm muffin or cookie, Snackable Bakes is here to satisfy it! It's the kind of baking that doesn't require planning, trips to the store, or even chill time.

— Vallery Lomas, author of Life is What You Bake It

Jessie Sheehan is the Queen of Easy-Peasy Baking. Her mission in Snackable Bakes is to make the most delicious treats with the least amount of fuss. With nothing more than a bowl and a spoon, you can create gorgeous cakes, cookies, and even pies.

— Zoë François, cookbook author

From the moment you open this book, Jessie Sheehan's endlessly crave-able and reliably approachable bakes will have you drooling. Trust me, you'll want to make everything.
— Samantha Seneviratne, cookbook author and host

Jessie Sheehan is synonymous with exuberant crowd-pleasers that capture the nostalgia and fun of home baking. Her newest book delivers, as always, with recipes for highly snackable bakes suiting every mood and occasion.
— Tara O'Brady, cookbook author

With Snackable Bakes, Jessie Sheehan will show you how to discover your inner baker with delicious, foolproof recipes. I guarantee you'll fall in love with her amazing spirit, her sense of humor, and her awesome sweet treats.

— Sohui Kim, chef and partner of Gage & Tollner and Insa
Countryman Press, 9781682687376, 240pp.
Publication Date: May 3, 2022
About the Author
Jessie Sheehan is the author of The Vintage Baker and the coauthor of Icebox Cakes. She writes and contributes recipes to the Washington Post, Food Network, Fine Cooking, Food52, and the Kitchn, among others; and she has appeared on the Hallmark Channel, Food Network Kitchen, Food52, and more. She lives in Brooklyn with her family.