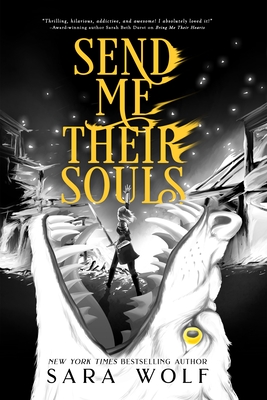 Send Me Their Souls (Bring Me Their Hearts #3)
Hardcover

* Individual store prices may vary.
Other Editions of This Title:
Digital Audiobook (1/25/2021)
Description
There are worse things than death.

With the rise of Varia d'Malvane comes the fall of the Mist Continent. Cavanos is overrun by the brutal rampage of the valkerax, led by its former crown princess. Vetris is gone. Helkyris is gone. As each mighty nation falls, the grip of the crown princess closes around the throat of the world.

But Zera Y'shennria isn't out yet.

Alongside Malachite, Fione, Yorl, and her love Lucien, Zera seeks aid from the High Witches and the Black Archives, with the valkerax horde hot on their heels. Seemingly unstoppable, Varia can track Zera through her dreams, ensuring there is nowhere to run. Thankfully, an ancient book holds the key to stopping the incursion forever.

But at what cost comes freedom?

At what cost comes love?

At what cost comes the end of the world, and the beginning of a new one?

The Bring Me Their Hearts series is best enjoyed in order.
Reading Order:
Book #1 Bring Me Their Hearts
Book #2 Find Me Their Bones
Book #3 Send Me Their Souls
Entangled: Teen, 9781682815076, 416pp.
Publication Date: November 3, 2020
About the Author
Sara Wolf lives in Portland, Oregon, where the sun can't get her anymore. When she isn't pouring her allotted life force into writing, she's reading, accidentally burning houses down whilst baking, or making faces at her highly appreciative cat. She is also the author of the NYT bestselling Lovely Vicious series.

www.sarawolfbooks.com