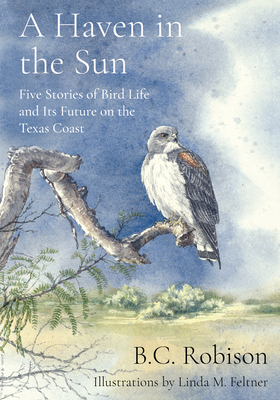 A Haven in the Sun
Five Stories of Bird Life and Its Future on the Texas Coast
Hardcover

* Individual store prices may vary.
Description
In A Haven in the Sun, nature writer B. C. Robison presents a unique portrayal of birds of the Texas Coast. Through the stories of birds that have a special bond with coastal Texas--Attwater's Prairie Chicken, White-tailed Hawk, Whooping Crane, Redhead, and migratory shorebirds and songbirds--Robison shows not only the importance of the Texas Coast to North American bird life but also the intimate dependence of coastal birds on our use of the land. At the heart of these stories lies the natural landscape and an account of how we have altered it to the benefit or harm of our native birds. The Laguna Madre, the great ranches of South Texas, the marshes of Aransas, the coastal prairie, and the famed migratory sanctuaries of Bolivar Flats and the oak woods of High Island have all played a vital role in our vibrant coastal bird life. Throughout the book, Robison asks several crucial questions: How can there be enough room for birds and people in the crowded world of the Texas Coast? Will we be endowed with this panorama of bird life twenty-five or fifty years from now? What can we do to help preserve this rich natural heritage? More story than polemic and more conversation than taxonomy, A Haven in the Sun will appeal to anyone who cares about bird life and its future on the Texas Coast.
Texas Tech University Press, 9781682830635, 216pp.
Publication Date: September 8, 2020