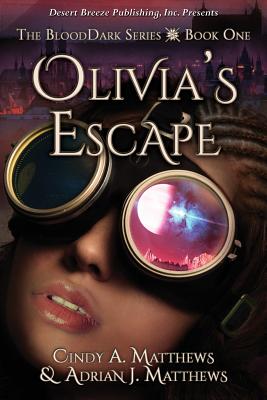 Olivia's Escape
Paperback

* Individual store prices may vary.
Description
Seventeen-year-old Olivia Brown is abducted on her way home from a night out and wakes up to find herself imprisoned by a vampiric race in a dark city bathed in eternal night. Hernando, a handsome half-human slave, reveals what is intended for her - they want her blood for the upcoming festival. Together they escape.
Joining a resistance cell, they help plot a revolution and fall in love. Their group plans take control of the Portal, a teleportation device that links Earth with BloodDark. They plan to attack when the Pure Bloods hibernate in caverns located deep beneath the city. The Resistance fighters make it to the city only to find the Overseers, the Pure Bloods' henchmen, are armed and waiting for them.
Will Olivia and Hernando survive the battle? If she returns to Earth, will Olivia ever see him again?
Desert Breeze Publishing, Incorporated, 9781682949306, 140pp.
Publication Date: August 14, 2016
About the Author
Cindy A. and Adrian J. Matthews are a married writing team who met through a mutual publisher. They have been published multiple times in SF/fantasy/paranormal and contemporary fiction. Cindy writes SF/Fantasy under the pen-name Cynthianna, notably her Doctor Who-inspired rom-com series Loving Who, and adult vampire fiction as Celine Chatillon. Adrian writes SF/paranormal/contemporary fiction as A. J. Matthews. His "Mr. Grey, Ghosthunter" series is intended for mature audiences. Together they have created the exciting world of BloodDark, a tidally-locked world inhabited by the Pure Bloods, a vampire-like race, along with abducted humans and their offspring. Cindy and Adrian regularly attend several science fiction conventions as panelists. They enjoy chatting on many writing/publishing and sci-fi fandom topics. Adrian also creates SF/fantasy/steampunk three-dimensional artwork for sale at cons and through his Smiling Assassin Productions.
or
Not Currently Available for Direct Purchase