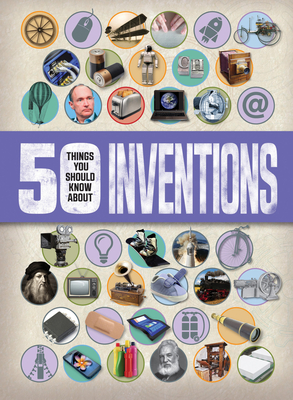 50 Things You Should Know About Inventions (Paperback)
QEB Publishing, 9781682970201, 80pp.
Publication Date: September 21, 2016
* Individual store prices may vary.
Description
In the ancient world, philosopher Archimedes designed new machines for farming. During the Renaissance, artist Leonardo da Vinci sketched his ideas for wondrous flying machines. Scientist James Watt provided ideas that would power the Industrial Revolution, while American inventor Thomas Edison patented more than 1000 inventions that would shape modern life, including the movie camera and the electric light bulb. Today's inventors still explore ideas for new and clever technology, producing miniature machines that we can only see under a microscope. Step inside the world of invention and see where it might take us next...
About the Author
Clive Gifford has traveled to more than 70 countries, climbed rocket launch towers, ridden on robots, and flown gliders. He's had more than 200 books published and has received nominations for or won Royal Society, School Library Association, Smithsonian, and TES awards. He won the Blue Peter Book Award for Best Book with Facts 2019 for his title The Colors of History (QEB). Clive lives in Manchester, UK. 
or
Not Currently Available for Direct Purchase