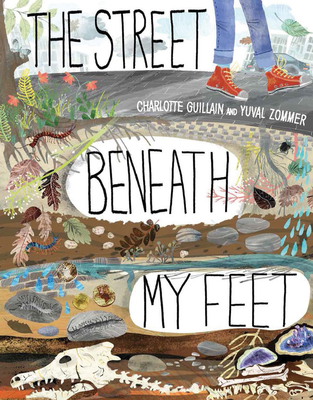 The Street Beneath My Feet (Look Closer)
Hardcover

* Individual store prices may vary.
Description
This double-sided foldout book takes you on a fascinating journey deep underground. One side of the foldout shows the ground beneath the city, whilst the reverse side shows the ground beneath the countryside. The underground scenes include tunnels and pipes, creatures' burrows, layers of rock and the planet's molten core, and run seamlessly into the next. Mixing urban and rural settings, covering subjects such as geology, archaeology and natural history, The Street Beneath My Feetoffers children the opportunity to explore their world through a detailed learning experience. And its fold-out, 'laperello' style, which extends to eight feet in length, is ideal for spreading out on the floor to pore over for hours.
Praise For The Street Beneath My Feet (Look Closer)…
"A foldout, concertina format creates a visceral sense of a journey to the center of the Earth.... Zommer's illustrations are a hive of subterranean activity, and Guillain's captionlike bursts enthuse about everything readers are seeing."--Publishers Weekly - Publishers Weekly
"The painted, stenciled, and collaged illustrations are full-bleed, and the tones graduate pleasantly from light colors at the surface of the Earth to rich pinks, yellows, and oranges as readers near the Earth's core. The text is informative...including such nuggets as "earthworms are expert recyclers, eating dead plants in the soil." An unusual offering for the young geology nerd."--Kirkus Reviews - Kirkus Reviews
"The earth science is simple but made glorious by the illustrations, homely and fantastic at once, as in a picture of a subway car, headlights streaming, above a layer of sedimentary rock and, further below, caves with spiky stalactites and stalagmites. The pictures are packed with detail, but each one says adventure—look, diamonds!—as much as education." - The Horn Book
words & pictures, 9781682971369, 20pp.
Publication Date: March 1, 2017
About the Author
After graduating from the Royal College of Art and persuing a successful career in advertising, Yuval Zommer transitioned to his true love of illustrating with his widely acclaimed debut picture book, The Big Blue Thing On The Hill (Templar, 2015), hotly followed by One Hundred Bones (Templar, 2015) and The Big Book of Bugs (Thames & Hudson, 2016).