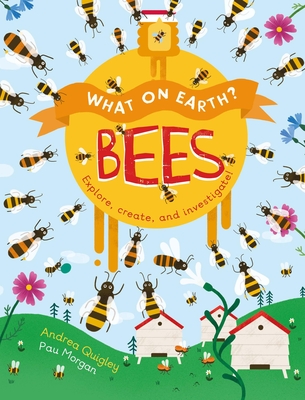 What On Earth? (Hardcover)
Bees
QEB Publishing, 9781682971499, 64pp.
Publication Date: June 6, 2017
* Individual store prices may vary.
Description
Bees are one of the hardest working insects on our planet. As they buzz from plant to plant, they spread pollen which helps our food to grow. Without them, the world would be a very different place.
Discover all you need to know about bees and their place in our world through experiments, investigations and hands-on tasks. This book takes a cross-disciplinary approach, including links to culture, history, arts and crafts, as well as the science behind the topic, encouraging children to engage with the natural world through exploration, creativity and investigation.
About the Author
Dr Andrea Quigley has kept bees for over ten years. A keen gardener and lover of nature and the environment, Andrea brings her background in agricultural botany to bear on her understanding of bees and beekeeping. A freelance writer, she writes regularly for beekeeping journals on all aspects of bees and beekeeping.
Paulina Morgan works as an independent illustrator based in Santiago de Chile. She studied design before moving to Barcelona, Spain to obtain her master's degree in Art Direction. She worked in advertising before deciding to pursue her passion for illustration.
Praise For What On Earth?: Bees…
"This stands out among a plethora of nonfiction about bees because of its reader-friendly format and inclusion of various curricular areas." — J. B. Petty for Booklist Online
 
The colourful illustrations are full of life and wonderful detail. This is an excellent way to inform children and encourage them to care for the natural world.
- Parents in Touch
"An excellent book about bees for elementary students with a wealth of information." – Cynde Suite, Bartow City. Library System, Adairsville, GA