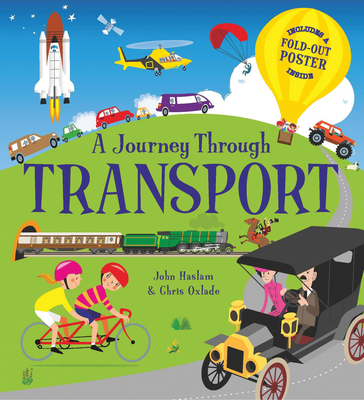 A Journey Through Transport (Hardcover)
QEB Publishing, 9781682971529, 48pp.
Publication Date: July 4, 2017
* Individual store prices may vary.
Description
From steam engine to spaceship, tractor to tandem, take a journey into the weird and wonderful world of transportation! Travel back in time and explore the first bikes, cars, trains, and planes. Then discover shiny new modes of transport and explore the amazing ways machines transport us around today. Packed with lively illustrations and fun facts and activities plus a free fold-out poster, this delightful, informative picture book will be a brilliant addition to any bookshelf.
About the Author
Chris Oxlade is an experienced author of children's information books, having written more than 150 on a range of subjects, specialising in science and technology.
John Haslam has been working as an illustrator for most of his professional life. John worked in advertising for 10 years and worked on various projects including TV storyboards, to illustrating for all kinds of accounts from Pritt Stick (the Pritt Stick Man was his invention), to comic pages such as Danger Mouse, Disney and Transformers.
Praise For A Journey Through Transport…
"The vehicles themselves are stylized but recognizable, which is a good thing because closing quizzes challenge viewers to identify 13 of them and to answer a set of questions too. The jacket folds out into a poster that depicts many of the modes of transit covered, with a submersible at the bottom and a futuristic rocket ship at the top. A spirited road trip over land and sea, through the air, into space, and a bit beyond the present day." - Kirkus Reviews