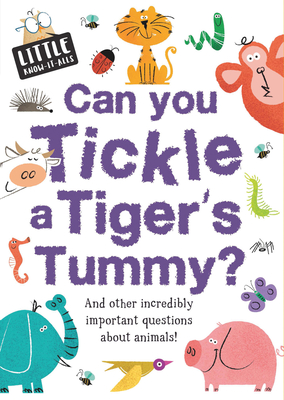 Can You Tickle a Tiger's Tummy? (Little Know-It-All)
Hardcover

* Individual store prices may vary.
Description
'How slow's a sloth?' (very s-l-o-w … the three-toed sloth hangs around in trees and hardly moves); why do elephants have big ears? and who lays eggs as big as a football?  Find out the answers to the questions that have fascinated children (and adults!) for generations with this unusual and amusing question-and-answer book! A fun first introduction to the world of exotic animals, their behavior and their characteristics. With hilarious, imaginative questions answered by know-it-all animal characters and funny cartoon-style illustrations accompanying scientific facts, this book introduces children to facts about the planet in a fun, enjoyable way.
QEB Publishing, 9781682972007, 48pp.
Publication Date: December 14, 2017
About the Author
Sue Nicholson was previously an editor for several publishers, including Macmillan Education, DK, and Kingfisher. She has written books for all ages on a wide variety of subjects, but her particular interest is in producing material for the under-5s and early readers. Sue loves writing original fiction and non-fiction and re-telling and adapting stories.
Lalalimola works primarily within children's book illustration, collaborating with international publishers as well as advertising agencies. She was born in Valencia, Spain, where she still lives today.
or
Not Currently Available for Direct Purchase