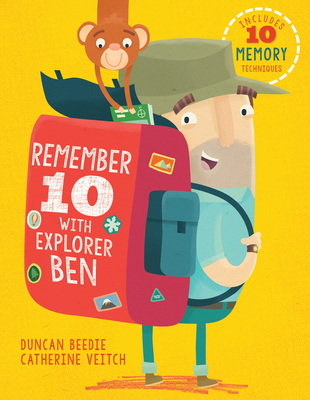 Remember 10 With Explorer Ben (Hardcover)
QEB Publishing, 9781682972069, 48pp.
Publication Date: October 3, 2017
* Individual store prices may vary.
Description
Join intrepid, but forgetful, Explorer Ben who sets off on a big adventure through jungle, caves and deserts on different methods of transport...but keeps he forgetting things along the way. Can you help Ben try to remember the items? Learn memorisation tricks along the way and see what you can help Ben remember!  A fun memory game adventure full of new memory tips to learn!
About the Author
Catherine Veitch trained as an infant primary teacher before working as an editor and writer for twenty years in children's magazines and books. Today, when she's not walking her Sheltie dog, Arthur, Catherine enjoys writing and creating content for children's story, puzzle, activity, and early learning books.
Duncan Beedie is an illustrator and animator based in Bristol. Aside from drawing copious quirky images, he collects clockwork robots, can identify pretty much any military aircraft and has a dog called Ivor.
Praise For Remember 10 With Explorer Ben…
"Sure, having a better memory makes test-taking easier, but according to this engaging book, it can enhance practical areas of life, in addition to the educational, by bolstering problem-solving abilities, creative thinking, and social skills....A fun—and memorable—resource to boost learning."
- Booklist
"A fun and effective guide to techniques meant to improve one's memory. It is best shared one-on-one but has great potential for giving children one of the essential tools needed to do well in school."
- School Library Journal
"Readers will enjoy memory challenges, and many may well put the techniques that work best to use in their daily lives."
- Kirkus Reviews