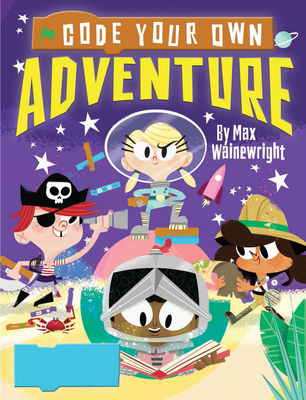 Code Your Own Adventure (Little Coders) (Paperback)
QEB Publishing, 9781682973097, 112pp.
Publication Date: July 19, 2018
* Individual store prices may vary.
Description
Major Kate, Pirate Pierre, Captain Maria and Sir Percival need your help! Prepare for an exciting adventure that will see you saving Planet Zyskinar, searching for buried treasure, finding the Lost City of Gold and discovering the Book of Spells! With easy-to-follow, step-by-step instructions illustrated in a graphic novel style, this is the perfect introduction to key coding concepts. Through simple and practical tasks such as drawing shapes and giving instructions in code to building games, this adventure book makes learning to code fun and accessible – the perfect way to gain a valuable skill for the future! Bring a space, pirate, jungle and knight adventure to life through drawing central characters and shapes, animating plot lines and creating games, and help them to save the day at the end! Choose your mission and get ready to code!
About the Author
MAX WAINEWRIGHT has written over 20 educational software titles for children, and many books on coding. His programs and websites have won a number of awards including BETT, ERA, and Practical Pre-School Gold Awards and are used by children throughout the world. In recent years Max designed and developed Espresso Coding—a website used by many thousands of schools to teach coding (now called DE Coding and a part of Discovery Learning). Max lives in London with his wife and two children, and teaches coding 3 days a week in a local school.
Henry Smith is an award-winning cartoonist and illustrator based in Salt Lake City, Utah. He's an artist who was captivated by cartoons at an early age and never grew out of them. Now, they're his career and he's made a name for himself designing unique characters that are full of humour.