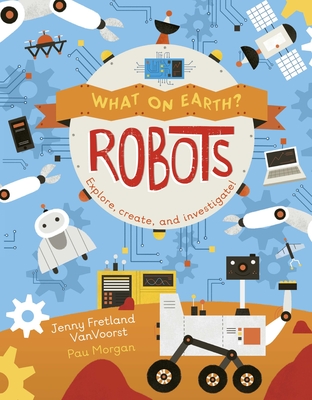 What on Earth (Hardcover)
Robots (What On Earth?)
QEB Publishing, 9781682973455, 64pp.
Publication Date: July 19, 2018
* Individual store prices may vary.
Description
Robots are an important part of our world. No longer part of science fiction, they are all around us, in our homes, workplaces, hospitals and space. Robots can make day-to-day tasks easier, perform life-saving surgery and explore the depths of space beyond our reach. Discover all you need to know about these incredible machines and their place in our world in this guide packed full of experiments, investigations and hands-on activities. Explore the importance of robots and how they influence our lives, investigate how they follow instructions and complete tasks, then create a mini robot and discover the mechanics behind these amazing machines. The perfect introduction to robots and the technology which make them work for children aged 7+.
About the Author
Jenny Fretland VanVoorst is a writer specialising in science and technology. She is especially interested in making complicated subjects interesting and accessible to young people. She has a particular interest and expertise in robotics, having been involved in robotics competitions as both a participant and a judge, and has written six books on robotics topics. When she's not reading or writing, Jenny enjoys travelling, watching wildlife and playing the piano. She lives in Michigan, USA, with her husband, Brian, and their two pets.
Paulina Morgan works as an independent illustrator based in Santiago de Chile. She studied design before moving to Barcelona, Spain to obtain her master's degree in Art Direction. She worked in advertising before deciding to pursue her passion for illustration.