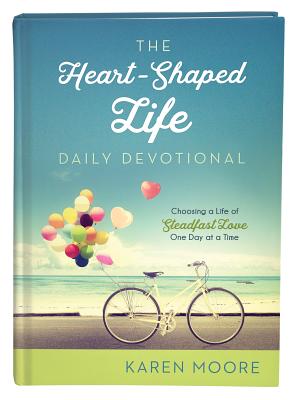 The Heart-Shaped Life Daily Devotional (Hardcover)
Choosing a Life of Steadfast Love One Day at a Time
Shiloh Run Press, 9781683220091, 384pp.
Publication Date: May 1, 2017
Other Editions of This Title:
Paperback (5/1/2019)
* Individual store prices may vary.
Description
Inspiration for a Heart-Shaped Life
  
What if you could see the world through the lens of the heart moment by moment?
What if God inspired you to walk "heart first" into every life event and circumstance, no matter what it was?
What if love was your number one priority? Love of God, love of others, and love of yourself? 

Inspired by 1 Corinthians 13:2: "If I had the gift of prophecy and knew all about what is going to happen in the future, knew everything about everything, but didn't love others, what good would it do?" . . .the Heart-Shaped Life series will encourage you to live life "heart first." 

The Heart-Shaped Life Daily Devotional provides refreshing thoughts, prayers, and scripture selections to help you discover the best path to the good life. . .which is all about LOVE!
About the Author
Karen Moore has an M.A. in Education and is a writing coach, speaker, and author. Karen has held managing editor and publisher positions at David Cook and Thomas Nelson, as well as American Greetings and Gibson Greetings. She teaches an online course in greeting card writing. She is also a popular speaker at writing conferences around the country and is the author of more than seventy-five gift, devotional, and children's books. She lives in Nashville, Tennessee.
Praise For The Heart-Shaped Life Daily Devotional: Choosing a Life of Steadfast Love One Day at a Time…
"As someone who enjoys the spiritual pause a daily devotional offers, I have gone through several over the years. Many ask the reader to take a step back and look at their lives in a more spiritual way. The Heart-Shaped Life Daily Devotional does something different, though. Rather than urging a step backward, Karen Moore invites the reader to move forward in leaps and bounds by remembering and then activating the blessings God has in put in place for all believers. 
"Karen's writing style is like getting a daily letter from a friend who already knows my life's struggles and challenges. She knows just the right thing to say to keep me encouraged and focused on what it takes to live a heart-shaped life.
"For me, the ultimate test of a devotion though comes when reading today's inspiration makes you look forward to tomorrow's. 
"I'm looking forward to tomorrow."
—Bob Bubnis, Editor of America's Sports Car magazine; Worship Leader, Scottsville Road Baptist Church
 
"I started reading Karen Moore's devotional and prayer books a couple years ago and now I'm hooked.  I love the easy way that she reminds me of who I am in God's eyes and what I can do to be a more kind and gracious person.  The Heart-Shaped Life Daily Devotional will change the way you look at the world, one person at a time."
—Mark A. Moore, American Heart Association Spokesman, Mark and Brenda Moore Family Foundation, Author: A Stroke of Faith
 
"Absolutely a must read! It is my calling to assist others in shaping their self-image so that their smiles reflect who they are from deep within. Karen Moore's new book powerfully demonstrates how our faith is one of the best tools we have to do this. We can all benefit from TheHeart-Shaped Life, and I guarantee it will make you smile!"
—Rich Castellano, M.D., Founder: Image Lift, Author: The Smile Prescription
 
"My dad used to say. . . And Karen Moore has done a similar thing in reminding us to see the best in others, see them heart-first.  I've been a fan of Karen's other devotionals, and I look forward to getting my heart in better shape for the work I do each day."
—Tom Ziglar, Proud Son of Zig Ziglar, President of Ziglar Inc.
"The Heart-Shaped Life Daily Devotional reflects the work of someone who has spent time listening to God in ways that have shaped her heart and her work. Karen Moore's new book helps us see that when we spend time with God, in His Word, and in His presence, He can mold and shape us to be more like Him."
—Bob Beaudine, President/Eastman Beaudine Inc., Author: Two Chairs
 
The Heart-Shaped Life is easy to understand and easy to apply. Encourage shoppers to keep it by their bed or their favorite reading spot. Any woman looking for a quick infusion of hope and truth will enjoy this daily read.
— Leslie Paladino
or
Not Currently Available for Direct Purchase