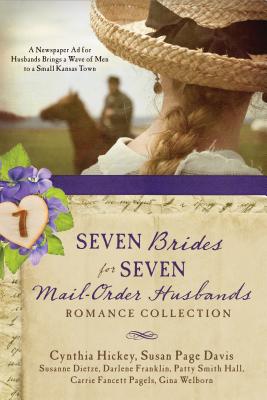 Seven Brides for Seven Mail-Order Husbands Romance Collection (Paperback)
A Newspaper Ad for Husbands Brings a Wave of Men to a Small Kansas Town
Barbour Books, 9781683221326, 448pp.
Publication Date: June 1, 2017
* Individual store prices may vary.
Description
Seven women seek husbands to help them rebuild a Kansas town.

Meet seven of Turtle Springs, Kansas', finest women who are determined to revive their small town after the War Between the States took most of its men. . .and didn't return them. The ladies decide to advertise for husbands and devise a plan for weeding out the riff raff. But how can they make the best practical choices when their hearts cry out to be loved?

Abigail's Proposal by Cynthia Hickey
When her father never returned from the war, Abigail Melton stepped into his role as town mayor. The town needs men, and she needs a husband—and she has a big idea how to find both—but her first duty is to hire a sheriff. And drifter Josiah Ingram will do just fine.

The Kidnapped Groom by Susan Page Davis
Riding through the Flint Hills on his way to Dodge City, cowboy Sam Cayford finds himself the kidnapping victim of two children. When he meets their lovely mother, Maggie Piner—whom the kids insist he should marry—Sam starts to question God's plans versus his own.
 
A Clean Slate by Susanne Dietze
Schoolmarm Roberta "Birdy" Green won't marry any of the prospective grooms flocking to town. After losing her fiancé in the war, the only love her broken heart can bear is for her students. But then she takes on a new pupil—Drew Cooper, one of the gentlemen drawn to Kansas by the advertisement for grooms.

Sunshine of My Heart by Darlene Franklin
Debbie Barker longs to bring beauty to her new home on the prairie, where her family moved after the war, and seeks a husband to help her father run the ranch. Zack Gage returned home from the war to a life in ruins—family dead and business bankrupted. He answers the mail-order husband ad to seek a fresh start. But neither Debbie nor Zeke know what they are doing when it comes to ranching. . .or love.

Come What May by Patty Smith Hall
Chardy Stevens is at the end of her rope. Between running her late father's store and tending to her four younger brothers, she barely has time to breathe, much less look for a husband to help her. The boys scare off most of her prospects and throw Chardy together with her childhood friend Luke, a disabled veteran who seeks her happiness above his own.

Dime Novel Suitor by Carrie Fancett Pagels
Widow Caroline Kane is the proprietor of a restaurant and inn—and responsible for her five teenaged siblings. But she has no plans of finding a mail-order groom. Britisher Barden Granville IV is on a "cowboy holiday" when he finds himself flat broke in Kansas.  When he answers an old "help wanted" ad, Caroline misconstrues Barden is there as a potential husband. Will the beautiful and fiesty widow cause the new vicar to make Kansas his home?
 
Louder than Words by Gina Welborn
After years of writing abolitionist pamphlets and chronicling soldier life during the war, J.R. Lockhart is bored and jumps at the opportunity to investigate an advertisement for husbands for an article in Godey's Lady's Book. Jane Ransome would like to help the charming-but-oblivious-to-life-out-West man chronicle the courtships developing in town, but she has her own husband to find—one who will fit perfectly in her picket-fenced Kansas home.
About the Author
Susan Page Davis is the author of more than seventy Christian novels and novellas, which have sold more than 1.5 million copies. Her historical novels have won numerous awards, including the Carol Award, the Will Rogers Medallion for Western Fiction, and the Inspirational Readers' Choice Contest. She has also been a finalist in the More than Magic Contest and Willa Literary Awards. She lives in western Kentucky with her husband. She's the mother of six and grandmother of ten. Visit her website at: www.susanpagedavis.com.
 
Susanne Dietze began writing love stories in high school, casting her friends in the starring roles. Today, she's the award-winning author of a dozen new and upcoming historical romances who's seen her work on the ECPA and Publisher's Weekly Bestseller Lists for Inspirational Fiction. Married to a pastor and the mom of two, Susanne lives in California and enjoys fancy-schmancy tea parties, the beach, and curling up on the couch with a costume drama and a plate of nachos.  You can visit her online at www.susannedietze.com and subscribe to her newsletters at http://eepurl.com/bieza5.
 
Bestselling author Darlene Franklin's greatest claim to fame is that she writes full-time from a nursing home. She lives in Oklahoma, near her son and his family, and continues her interests in playing the piano and singing, books, good fellowship, and reality TV in addition to writing. She is an active member of Oklahoma City Christian Fiction Writers, American Christian Fiction Writers, and the Christian Authors Network. She has written over fifty books and more than 250 devotionals. Her historical fiction ranges from the Revolutionary War to World War II, from Texas to Vermont. You can find Darlene online at www.darlenefranklinwrites.com
 
PATTY SMITH HALL is an award-winning, multi-published author with Love Inspired Historical and Heartsong/Harlequin.  She currently serves as president of the ACFW-Atlanta chapter and is active on Facebook, Pinterest and Twitter. She calls North Georgia her home which she shares with her husband of 30+ years, Danny; two gorgeous daughters and a future son-in-love. Visit her website at 
www.pattysmithhall.com
.   
Cynthia Hickey grew up in a family of storytellers and moved around the country a lot as an army brat. Her desire is to write about real, but flawed characters in a wholesome way that her seven children and five grandchildren can all be proud of. She and her husband live in Arizona where Cynthia is a full-time writer.
ECPA-bestselling author Carrie Fancett Pagels, Ph.D., is the award-winning author of over a dozen Christian historical romances. Twenty-five years as a psychologist didn't "cure" her overactive imagination! A self-professed "history geek," she resides with her family in the Historic Triangle of Virginia but grew up as a "Yooper" in Michigan's Upper Peninsula. Carrie loves to read, bake, bead, and travel – but not all at the same time! You can connect with her at www.CarrieFancettPagels.com.
 
ECPA- bestselling author Gina Welborn worked for a news radio station until she fell in love with writing romances. She serves on the American Christian Fiction Writers Foundation Board. Sharing her husband's love for the premier American sportscar, she is a founding member of the Southwest Oklahoma Corvette Club and a lifetime member of the National Corvette Museum. Gina lives with her husband, three of their five Okie-Hokie children, two rabbits, two guinea pigs, and a dog that doesn't realize rabbits and pigs are edible. Find her online at www.ginawelborn.com!
 
or
Not Currently Available for Direct Purchase