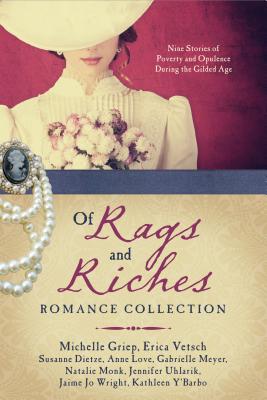 Of Rags and Riches Romance Collection
Nine Stories of Poverty and Opulence During the Gilded Age
Paperback

* Individual store prices may vary.
Description
Love Flourishes during America's Gilded Age
 
Journey along in nine historical romances with those whose lives are transformed by the opulence, growth, and great changes taking place in America's Gilded Age. Nine couples meet during these exhilarating times and work to build a future together through fighting for social reform, celebrating new opportunities for leisure activities, taking advantage of economic growth and new inventions, and more. Watch as these romances develop and legacies of faith and love are formed.
 
Union Pacific Princess by Jennifer Uhlarik - Cheyenne, Dakota Territory, 1867
In the hell-on-wheels rail town of Cheyenne, grieving Boston socialite Dara Forsythe must choose between her estranged father; Connor, a bigwig with the Union Pacific Railroad; and Gage Wells, a former Confederate sharpshooter bent on derailing the Transcontinental Railroad's progress.
 
The Right Pitch by Susanne Dietze - Philadelphia, Pennsylvania, 1876
Guarded industrialist Beck Emerson agrees to sponsor his sister's all-female baseball team. But when pretty pitcher Winnie Myles throws a curveball that makes him team manager, it challenges his plan to play it safe in life and love.
 
A Gift in Secret by Kathleen Y'Barbo - New Orleans, Louisiana, 1871
May Bolen offers Sam Austin a marriage of convenience. He will get to run the company that drove his into bankruptcy, and she will be free from her father's rule to travel the world. But when Sam meets May, he knows the offer is too good to be true—or convenient—when hearts become tangled.
 
For Richer or Poorer by Natalie Monk - Newark, New Jersey, 1885
In order to bring her starving family to New Jersey, Polish immigrant Marcella Lipski must marry wealth. So she takes Americanization lessons from the poor-but-mysterious cart driver teaching her English—and loses her heart in the process.
 
A House of Secrets by Michelle Griep - St. Paul, MN 1890
Ladies Aide Chairman, Amanda Carston resolves to clean up St. Paul's ramshackle housing, starting with the worst of the worst: a "haunted" house that's secretly owned by her beau—a home that's his only means of helping brothel girls escape from the hands of the city's most infamous madam.
 
Win, Place, or Show by Erica Vetsch - New York City, 1890
Beryl Valentine, a socialite with a passion for horses, finds herself falling in love with her riding instructor, a man her parents will never accept. Will she follow her parents' wishes, or let Gard Kennedy ride away with her heart? 
 
The Fisherman's Nymph by Jaime Jo Wright - Flambeau River, Wisconsin, 1890
The reclusive daughter of a fly-fisherman guide must read the waters for a wealthy gentleman's sport and send him back where he belongs before he hooks her heart and takes her away from the river she was born to love.
 
The Gardener's Daughter by Anne Love - Bay View, Michigan, 1895
When the nephew of a prestigious Chautauqua resort founder sets his eye on the new library assistant believing her an academy student, it will take more than reciting poetry for love to bloom when he learns she's the humble gardener's daughter.
 
A Tale of Two Hearts by Gabrielle Meyer - Little Falls, Minnesota, June 1899
Reputations and jobs are on the line when lady's maid, Lucy Taylor, and neighboring footman, Elijah Boyer, compete against each other for a place of honor during the annual community appreciation event hosted by their wealthy employers.
Barbour Books, 9781683222637, 448pp.
Publication Date: July 1, 2017
About the Author
Susanne Dietze began writing love stories in high school, casting her friends in the starring roles. Today, she's an award-winning, RWA RITA®-nominated author who's seen her work on the ECPA, Amazon, and Publisher's Weekly Bestseller Lists for Inspirational Fiction. Married to a pastor and the mom of two, Susanne lives in California and enjoys fancy-schmancy tea parties, genealogy, the beach, and curling up on the couch with a costume drama. To learn more, visit her website, https://link.edgepilot.com/s/d3080295/p0aguhhlsE6XP5PN5daEzw?u=http://www.susannedietze.com/.
Michelle Griep's been writing since she first discovered blank wall space and Crayolas. She is the Christy Award-winning author of historical romances:
A Tale of Two Hearts, The Captured Bride, The Innkeeper's Daughter, 12 Days at Bleakly Manor, The Captive Heart, Brentwood's Ward, A Heart Deceived,
and
Gallimore,
but also leaped the historical fence into the realm of contemporary with the zany romantic mystery
Out of the Frying Pan
. If you'd like to keep up with her escapades, find her at www.michellegriep.com or stalk her on Facebook, Twitter, and Pinterest.  
And guess what? She loves to hear from readers! Feel free to drop her a note at michellegriep@gmail.com.  
Gabrielle Meyer
lives in central Minnesota on the banks of the Mississippi River with her husband and four young children. As an employee of the Minnesota Historical Society, she fell in love with the rich history of her state and enjoys writing fictional stories inspired by real people and events. Gabrielle can be found at www.gabriellemeyer.com where she writes about her passion for history, Minnesota, and her faith.
Natalie Monk is a member of the American Christian Fiction Writers and is represented by Tamela Hancock Murray of the Steve Laube Agency. A country girl from the time she could shimmy under a string of barbed wire, Natalie makes her home in North Mississippi, where she proudly wears the label "preacher's kid." She is a homeschool graduate, part-time virtual assistant, and former post hole digger. She loves porch swings, old-fashioned camp meetings, and traveling with her family's singing group. Her goal in writing, and in living, is to bring glory to her Savior, Jesus Christ. Come chat with her on her website: www.nataliemonk.com.
Jennifer Uhlarik
discovered the western genre as a preteen, when she swiped the only "horse" book she found on her older brother's bookshelf. A new love was born. Across the next ten years, she devoured Louis L'Amour westerns and fell in love with the genre. In college at the University of Tampa, she began penning her own story of the Old West. Armed with a BA in writing, she has won five writing competitions and was a finalist in two others. In addition to writing, she has held jobs as a private business owner, a schoolteacher, a marketing director, and her favorite—a full-time homemaker. Jennifer is active in American Christian Fiction Writers and is a lifetime member of the Florida Writers Association. She lives near Tampa, Florida, with her husband, teenage son, and four fur children.
Erica Vetsch is a transplanted Kansan now residing in Minnesota. She loves books and history, and is blessed to be able to combine the two by writing historical romances. Whenever she's not following flights of fancy in her fictional world, she's the company bookkeeper for the family lumber business, mother of two, an avid museum patron, and wife to a man who is her total opposite and soul mate. Erica loves to hear from readers. You can sign up for her quarterly newsletter at www.ericavetsch.com

You can email her at ericavetsch@gmail.com or contact her on her author Facebook page.
 
Professional coffee drinker,
Jaime Jo Wright
resides in the hills of Wisconsin. She loves to write spirited turn-of-the-century romance, stained with suspense. Her day job finds her as a Director of Sales and Development. She's wife to a rock climbing, bow-hunting Pre-K teacher, mom to a coffee-drinking little girl, and a little boy she fondly refers to as her mischievous "Peter Pan." Jaime completes her persona by being an admitted social media junkie and coffee snob. She is a member of ACFW and has the best writing sisters EVER! 
Kathleen Y'Barbo is a multiple Carol Award and RITA nominee and bestselling author of more than one hundred books with over two million copies of her books in print in the US and abroad. A tenth-generation Texan and certified paralegal, she is a member of the Texas Bar Association Paralegal Division, Texas A&M Association of Former Students and the Texas A&M Women Former Students (Aggie Women), Texas Historical Society, Novelists Inc., and American Christian Fiction Writers. She would also be a member of the Daughters of the American Republic, Daughters of the Republic of Texas and a few others if she would just remember to fill out the paperwork that Great Aunt Mary Beth has sent her more than once.
When she's not spinning modern day tales about her wacky Southern relatives, Kathleen inserts an ancestor or two into her historical and mystery novels as well. Recent book releases include bestselling
The Pirate Bride
set in 1700s New Orleans and Galveston, its sequel
The Alamo Bride
set in 1836 Texas, which feature a few well-placed folks from history and a family tale of adventure on the high seas and on the coast of Texas. She also writes (mostly) relative-free cozy mystery novels for Guideposts Books.
Kathleen and her hero in combat boots husband have their own surprise love story that unfolded on social media a few years back. They make their home just north of Houston, Texas and are the parents and in-laws of a blended family of Texans, Okies, and one very adorable Londoner.
To find out more about Kathleen or connect with her through social media, check out her website at www.kathleenybarbo.com.    
or
Not Currently Available for Direct Purchase