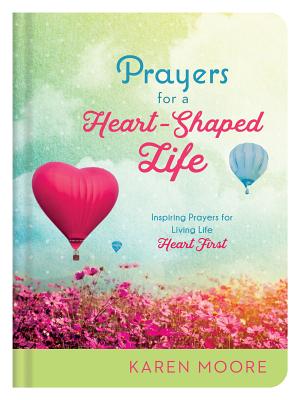 Prayers for a Heart-Shaped Life (Hardcover)
Inspiring Prayers for Living Life "Heart First"
Shiloh Run Press, 9781683223207, 224pp.
Publication Date: December 1, 2017
* Individual store prices may vary.
Description
Live Life Heart-First
 
What if prayer could help you view the world through the lens of the heavenly Creator?
What if prayer could inspire you to walk "heart first" into every situation, no matter what it was?
What if prayer could cause love to become your number one priority? 
 
Inspired by 1 Corinthians 13:2: "If I had the gift of prophecy and knew all about what is going to happen in the future, knew everything about everything, but didn't love others, what good would it do?" . . .the Heart-Shaped Life series will encourage you to live life "heart first." 

Prayers for a Heart-Shaped Life features more than 200 prayers that will inspire you to draw closer to your heavenly Father as you spend time in quiet conversation with the author of Love Himself. Each refreshing prayer and related scripture selection will help you discover the best path to the good life. . .which is LOVE.
 
About the Author
Karen Moore has an M.A. in Education and is a writing coach, speaker, and author. Karen has held managing editor and publisher positions at David Cook and Thomas Nelson, as well as American Greetings and Gibson Greetings. She teaches an online course in greeting card writing. She is also a popular speaker at writing conferences around the country and is the author of more than seventy-five gift, devotional, and children's books. She lives in Nashville, Tennessee.
Praise For Prayers for a Heart-Shaped Life: Inspiring Prayers for Living Life "Heart First"…
"No matter how many books you've read on prayer, this new book by Karen Moore offers a unique perspective. A few moments of this book each day will soften and enrich your prayerful heart." 
-Dr. David L. Goetsch, Christian Counselor, Professor, and Management Consultant
 
"Karen Moore has done it again! She has an amazing way of clearing the fog of life and speaking right to my heart. Her latest book confirms that when our heart engages in prayer, big things happen. Give yourself a chance to go through each day prayerfully and heart-first."
-Dr. Susan Sharpe, President, Intentional Living
 
"No matter how many books you've read on prayer, this new book by Karen Moore offers a unique and fresh perspective. A few moments of this book each day will soften and enrich your prayerful heart as you come to the One who loves to hear your prayers continually." 
-Tom Kapella, Consultant: Business Strategy, Development, Customer Engagement


"God's love abounds in the pages of Prayers fora Heart-Shaped Life, so kick off every day with this wonderful book that will become an indispensable tool in your walk with Him."
-Cameron Kim Dawson, Producer of Letters to God, To Write Love on Her Arms
 
"Give yourself a nugget from this book each morning, and you will be amazed at how applicable that prayer will be for the particular need you face that day."
-Duane Ward, CEO, Premiere Marketing, LLC