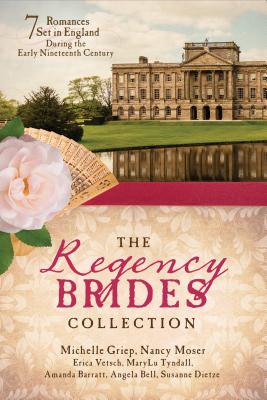 The Regency Brides Collection (Paperback)
7 Romances Set in England during the Early Nineteenth Century
Barbour Books, 9781683223719, 448pp.
Publication Date: November 1, 2017
* Individual store prices may vary.
Description
Romance is a delicate dance bound by rules and expectations in Regency England...
Seven couples must navigate society's gauntlet to secure the hand of true love....

Charity and Luke are strangers who were forced to marry three years ago.
Adelaide and Walter share a love of music and disdain for elitism.
Caroline and Henry are thrown together by three orphans.
Helen and Isaac harbor his unlikely secret.
Esther is empowered to choose between two men.
Sophia is determined not to choose a man like Nash.
Jamie and William face a daunting London season together.

Will their faith grow and love prevail in a time when both were considered luxuries the elite could not afford?
About the Author
ECPA bestselling author
Amanda Barratt
, fell in love with writing in grade school when she wrote her first story—a spinoff of Jane Eyre. Now, Amanda writes inspirational historical romance, penning stories that transport readers to a variety of locales. These days, Amanda can be found reading way too many books, watching an eclectic mix of BBC dramas and romantic chick flicks, and trying to figure out a way to get on the first possible flight to England. She loves hearing from readers on Facebook and through her website
amandabarratt.net
Novelist Angela Bell is a 21st century lady with 19th century sensibilities. Her activities consist of reading voraciously, drinking copious amounts of tea, and writing letters with a fountain pen. She currently resides in the southern most region of Texas with pup Mr. Darcy and kitty Lizzie Bennett. One might describe Angela's fictional scribblings as historical romance or as Victorian history and steampunk whimsy in a romantic blend. Whenever you need a respite from the 21st century hustle, please visit her cyber-space parlor www.AuthorAngelaBell.com where she can be found waiting with a pot of English tea and some Victorian cordiality.
Susanne Dietze began writing love stories in high school, casting her friends in the starring roles. Today, she's the award-winning author of a dozen new and upcoming historical romances who's seen her work on the ECPA and Publisher's Weekly Bestseller Lists for Inspirational Fiction. Married to a pastor and the mom of two, Susanne lives in California and enjoys fancy-schmancy tea parties, the beach, and curling up on the couch with a costume drama and a plate of nachos.  You can visit her online at www.susannedietze.com and subscribe to her newsletters at http://eepurl.com/bieza5.
 
Michelle Griep has been writing since she first discovered blank wall space and Crayolas. She seeks to glorify God in all that she writes—except for that graffiti phase she went through as a teenager. She resides in the frozen tundra of Minnesota, where she teaches history and writing classes for a local high school co-op. An Anglophile at heart, she runs away to England every chance she gets, under the guise of research. Really, though, she's eating excessive amounts of scones while rambling around a castle. Michelle is a member of ACFW (American Christian Fiction Writers) and MCWG (Minnesota Christian Writers Guild). Keep up with her adventures at her blog "Writer off the Leash" or visit michellegriep.com.
Nancy Moser is an award-winning author of over twenty-five novels that share a common message: we each have a unique purpose—the trick is to find out what it is. Her genres include contemporary and historical novels including
Love of the Summerfields
,
Mozart's Sister
,
The Invitation,
and the Christy Award-winning
Time Lottery
. She is a fan of anything antique—humans included.
www.nancymoser.com
.

MaryLu Tyndall, a Christy Award finalist and bestselling author of the Legacy of the King's Pirates series, is known for her adventurous historical romances filled with deep spiritual themes. She holds a degree in math and worked as a software engineer for fifteen years before testing the waters as a writer. MaryLu currently writes full time and makes her home on the California coast with her husband, six kids, and four cats. Her passion is to write page-turning, romantic adventures that not only entertain but open people's eyes to their God-given potential. MaryLu is a member of American Christian Fiction Writers and Romance Writers of America.
Erica Vetsch is a transplanted Kansan now residing in Minnesota. She loves books and history, and is blessed to be able to combine the two by writing historical romances. Whenever she's not following flights of fancy in her fictional world, she's the company bookkeeper for the family lumber business, mother of two, an avid museum patron, and wife to a man who is her total opposite and soul mate. Erica loves to hear from readers. You can sign up for her quarterly newsletter at www.ericavetsch.com
And you can email her at ericavetsch@gmail.com or contact her on her author Facebook page.
 
or
Not Currently Available for Direct Purchase