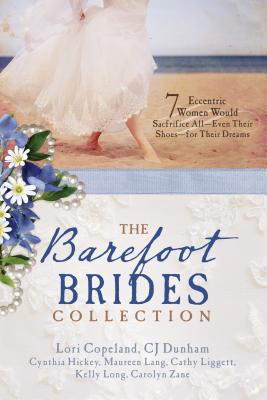 The Barefoot Brides Collection
7 Eccentric Women Would Sacrifice All (Even Their Shoes) For Their Dreams
Paperback

* Individual store prices may vary.
Description
7 Optimistic Women Walk Various Roads to Reach Their Dreams
 
Connected to nature and carefree of heart seven historical women would prefer to travel through life without shoes, especially if giving away their only pair would comfort someone else in need. Will these women of faith change their ways under society's pressures and the lure of romance?
 
Barefoot Hearts by Lori Copeland
Edgar's Cove, Arkansas, 1876
Annie Lawson was perfectly content with her life on the banks of the muddy Mississippi—or so she thought until the man of her dreams, Doctor Gabe Jones, agreed to temporarily fill a void in Edgar's Cove—but it turned out the void was in Annie's heart. Could a simple baseball score decide the answer to a lifetime dream?
 
Castles in the Sand by CJ Dunham
Victoria, Vancouver Island, 1899
Carefree Jennie Farrow befriends an orphaned baby seal and a crusty old fisherman. When the seal brings gifts from the sea, they recognize something from a missing boat and set out to find the wreck. A man found on a beach has no memory, and Jennie helps to nurse him back to health. But what will become of a budding love when his wealthy family come and whisk him away?
 
A Teacher's Heart by Cynthia Hickey
Ozark Mountains, 1932
Small Town teacher Mary Jo Stevens yearns to make a difference in her community. As a Demonstration Agent for the Arkansas Welfare Department, Bill Wright travels to every hill and hollow in the Ozarks to teach men and women how to make the best of their situations. But he needs the assistance of someone like Mary Jo. Can she trust an outsider who thinks he knows best?
 
Between the Moments by Maureen Lang
Kansas, 1879
Everyone in town knows Eddie Tucker who lived with the Apache for seven years as a child and now keeps to himself—until Mary Elliot arrives in town. As the daughter of missionaries, Mary rejects her grandfather's wealth, preferring to spend time with the poor. The two outsiders have much in common, but will Mary's family and Eddie's deep wounds keep them apart?
 
Promise Me Sunday by Cathy Liggett
Boston, 1890
Adeline McClain's mother always preached "to thine own self be true." But when Adeline is orphaned and brought East to live with well-to-do relatives, being herself—caring, down-to-earth, and often barefoot—is getting her into trouble. When it comes to love, could Adeline's eccentricities cause Everett Brighton to have to choose between Adeline or his inheritance?
 
Lady Slipper by Kelly Long
Pennsylvanian Appalachia, 1922
Local resident Fern Summerson agrees to help a young missionary distribute shoes to her people, but the journey becomes fraught with tension as Jacob Reynold falls in love with his guide and discovers that her connection with nature is more beautiful than any well shod foot. 
 
Hope's Horizon by Carolyn Zane
Oregon Trail, 1843
Hope Dawson agrees to become engaged to an older man in order to relieve her family of one more mouth to feed. But on the Trail, she is forced to walk while Julius and his mother ride in the wagon. Fellow traveler, William Bradshaw sees her plight, but can he help without losing his heart?
 
Barbour Books, 9781683226826, 448pp.
Publication Date: July 1, 2018
About the Author
Lori Copeland is a popular bestselling author of both historical and contemporary fiction. Her books have been nominated for the prestigious Christy Award, and she received two
Romantic Times
Lifetime Achievement Awards. Lori makes her home in Missouri with her husband, Lance, three sons, and ever growing family. Her hobbies include knitting prayer and friendship shawls and baking chocolate chip cookies.
CJ Dunham is an author, presenter, and storyteller. She has performed across the country, given creative writing presentations, has published a fully-illustrated children's book and her work has appeared in national magazines. A mother of five and grandmother of thirteen, Dunham enjoys cycling and pretending she can paint. Learn more: authorcjdunham.com and @CJDunham1
Multi-published and best-selling author, Cynthia Hickey, has taught writing at many conferences and small writing retreats. She and her husband run the publishing press, Winged Publications, which includes some of the CBA's best well-known authors. They live in Arizona and Arkansas, becoming snowbirds with two dogs and one cat. They have ten grandchildren who them busy and tell everyone they know that "Nana is a writer." 
 
Maureen Lang writes stories inspired by a love of history and romance. An avid reader herself, she's figured out a way to write the stories she feels like reading. Maureen's inspirationals have earned various writing distinctions including the Inspirational Reader's Choice Contest, a HOLT Medallion, and the Selah Award, as well as being a finalist for the Rita, Christy, and Carol Awards. In addition to investigating various eras in history (such as Victorian England, First World War, and America's Gilded Age), Maureen loves taking research trips to get a feel for the settings of her novels. She lives in the Chicago area with her family and has been blessed to be the primary caregiver to her adult disabled son.
Cathy Liggett lives in southwest Ohio with her husband of over thirty years and two grown children. Her passion for all things involved in writing started at a very young age and still inspires her today. She is the author of both fiction and non-fiction.
or
Not Currently Available for Direct Purchase