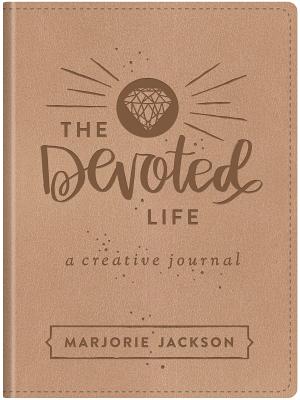 The Devoted Life (Paperback)
A Creative Devotional Journal
Shiloh Run Press, 9781683226871, 208pp.
Publication Date: December 1, 2018
* Individual store prices may vary.
Description
Come Experience It for Yourself. . . Life Is Good with a God Who Is Great!

This topically guided creative journal for teen girls offers inspiration and encouragement for those who desire to live their lives fully devoted to Christ. Amidst the loud, confusing voices of the world, trying to tell them which way is the right way to go, girls need to stop, rest, refuel, and reflect in the presence of their truest Friend and most loyal heavenly Father. Whether it's through creativity, meditating on scripture, prayer, or writing, readers will join young author and artist, Marjorie Jackson, for a time of life-giving fun, faith-strengthening encouragement, and God-glorifying growth. As girls connect with their first love, Jesus, they will begin to understand that life is truly good with a God who is absolutely great! 
About the Author
Twenty-year-old Marjorie Jackson is the author of two books thus far—The Greatest Book You've Never Read (2013) and Devoted: A Girl's 31-Day Guide to Good Living with a Great God (Barbour Publishing, 2017). She is the oldest of six wildly energetic, half Guatemalan kids. She enjoys playing the piano, strumming away on the ukulele, singing with her sister, Genevieve, musical theater, art (especially hand lettering), spending time outside, watching black-and-white TV shows from the fifties, and talking with family, friends, strangers…pretty much anybody.
Praise For The Devoted Life: A Creative Devotional Journal…
"This beautiful, encouraging journal is a quiet, creative place to intentionally connect with the One who loves us, made us, and has an amazing purpose for our lives."
–Holley Gerth, bestselling author of Fiercehearted: Live Fully, Love Bravely
"Marjorie has created a beautiful journal as a companion to her devotional, The Devoted Life. What a wonderful resource for every girl who is desiring a deeper walk with Jesus."
–Gina Franzke, Women's Minister, Cross Church Springdale
"God has used Marjorie's writings and life in many ways to impact this generation of ladies—including myself! This book will encourage and challenge your walk with the Lord."
–Lydia Patton, reader
"The Devoted Life is one of those books I would encourage every girl to read. It is challenging, convicting, encouraging, and FUN all at once! With each section, she continues to challenge and encourage all girls to chase after Christ and pursue a life of devotion."
–Morgahn Martin, reader
"Prepare to be inspired by Marjorie's refreshing perspective on everyday situations that girls of all ages face. Included is valuable advice, verses to dig deeper, and creative coloring pages to encourage you in your daily walk with Christ!"
–Ashley Nelson, reader
"Every single component of The Devoted Life—topics, journaling prompts, coloring pages, and more—engages and draws readers to God's Word in the most exciting and refreshing way. Get ready to immerse yourself in scripture like NEVER before!"
–SarahAshley Bryant, reader