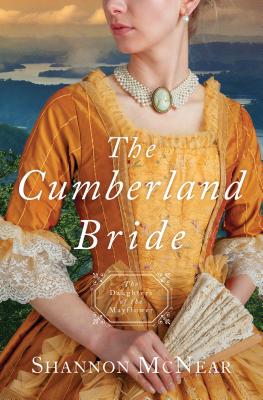 The Cumberland Bride (Paperback)
Daughters of the Mayflower - book 5
Barbour Books, 9781683226918, 256pp.
Publication Date: October 1, 2018
* Individual store prices may vary.
Description
Thomas Bledsoe and Kate Gruener are traveling the Wilderness Road when conflicts between natives and settlers reach a peak that will require each of them to tap into a well of courage.
A brand new series for fans of all things related to history, romance, adventure, faith, and family trees.
Love and Adventure Are Discovered on the Wilderness Road
In 1794, when Kate Gruener's father is ready to move the family farther west into the wilderness to farm untouched land, Kate is eager to live out her own story of adventure like he did during the War for Independence and to see untamed lands. And she sets her sights on learning more about their scout, Thomas Bledsoe. Thomas's job is to get settlers safely across the Kentucky Wilderness Road to their destination while keeping an ear open for news of Shawnee unrest. But naïve Kate's inquisitive nature could put them both in the middle of a rising tide of conflict. Is there more to Thomas's story than he is willing to tell? Is there an untapped courage in Kate that can thwart a coming disaster?
Join the adventure as the
Daughters of the Mayflower
series continues with
The Cumberland Bride
by Shannon McNear.
More in the
Daughters of the Mayflower
series:
The Mayflower Bride
by Kimberley Woodhouse – set 1620 Atlantic Ocean (February 2018)
The Pirate Bride
by Kathleen Y'Barbo – set 1725 New Orleans (April 2018)
The Captured Bride
by Michelle Griep – set 1760 during the French and Indian War (June 2018)
The Patriot Bride
by Kimberley Woodhouse – set 1774 Philadelphia (August 2018)​
The Cumberland Bride
by Shannon McNear – set 1794 on the Wilderness Road (October 2018)
The Liberty Bride
by MaryLu Tyndall – set 1814 Baltimore (December 2018)  
About the Author
Transplanted to North Dakota after more than two decades in Charleston, South Carolina,
Shannon McNear
loves losing herself in local history. She's a military wife, mom of eight, mother-in-law of three, grammie of two, and a member of ACFW and RWA. Her first novella,
Defending Truth
in
A Pioneer Christmas Collection,
was a 2014 RITA® finalist. When she's not sewing, researching, or leaking story from her fingertips, she enjoys being outdoors, basking in the beauty of the northern prairies. Connect with her at 
www.shannonmcnear.com
, or on Facebook and Goodreads.
Praise For The Cumberland Bride: Daughters of the Mayflower - book 5…
"Gut-wrenching emotion with all the action of The Last of the Mohicans. The Cumberland Bride will grab you by the throat and not let go until you've closed the book. This is one up-and-coming author that you're going to want to keep your eye on!"
 –Michelle Griep, award-winning author of The Captured Bride
 
 
" You won't be disappointed!"
–Carrie Fancett Pagels, award-winning, ECPA-bestselling author of My Heart Belongs on Mackinac Island
 
 
"Filled with unforgettable characters and a dash of romance, Shannon McNear's The Cumberland Bride is an adventure from the first page to the last. I fell in love with this book, and I know you will too."
–Kathleen Y'Barbo, bestselling author of My Heart Belongs in Galveston, Texas and ThePirate Bride
 
 
"Breathtaking and captivating!  Rarely does a book keep me up at night, and rarely do I think about the story long after I turned the last page. Don't miss this one!" 
–MaryLu Tyndall, author of the bestselling and award-winning Legacy of the King's Pirates series.
 
 
"Shannon McNear writes vivid, richly-detailed historical novels with plenty of heart and adventure. Highly recommended!"
–Elizabeth Camden, RITA® and Christy award winning author
 
 
"Shannon McNear's The Cumberland Bride is a beautifully written novel with a compelling plot of brave travelers on the Wilderness Road. This can't-miss tale will capture your mind and thrill your heart!"
–Jennifer Uhlarik, Selah Award-winning author of The Outcast's Redemption and part of The Secret Admirer Romance Collection
 
 
"A fabulous read! The Cumberland Bride is gorgeously-written and rich in historical detail, with a romance that hooked me from the start. This one is definitely for the keeper shelf."
–Susanne Dietze, award-winning author of My Heart Belongs in Ruby City, Idaho
 
 
"A must-read debut novel for those who love Laura Frantz and Lori Benton."
–Gabrielle Meyer, author of Love's Undoing in The Backcountry Brides Romance Collection
 
 
"Compelling and lovely, The Cumberland Bride will take you on a journey of the heart as you travel with the characters into the wilderness."
–Roseanna M. White, bestselling author of The Lost Heiress and the Shadows Over England Series
 
With a historical setting, an intriguing romance and plenty of adventure, this is a great story for historical fans.