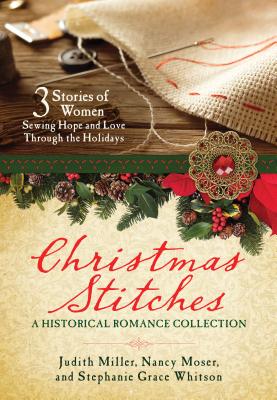 Christmas Stitches (Paperback)
A Historical Romance Collection: 3 Stories of Women Sewing Hope and Love Through the Holidays
Barbour Books, 9781683227151, 448pp.
Publication Date: October 1, 2018
* Individual store prices may vary.
Description
3 Talented Women, 3 Christmas Romances
Return to Christmases of yesteryear with three women who use their sewing talents to succeed in the late 1800s. But can love also be stitched into their lives?
 
A SEAMLESS LOVE by Judith Miller
1888 – Pullman, Illinois
Hannah Cooper possesses a special talent for embroidered fancywork and design which secures her a position in the Dressmaking and Millinery Shop in the Pullman Arcade near Chicago. There she encounters childhood friend Daniel Price who is disappointed to learn Hannah is being courted by a Chicago businessman. With two men vying for her attention, will Hannah seek God's direction or ignore the warning signs He sets before her?
 
PIN'S PROMISE by Nancy Moser
1906 – Summerfield, England
Penelope (Pin) Billings and Jonathan Evers have loved each other since they were children, promising to one day get officially engaged. Both have distinct talents: Pin for sewing dresses and teaching others to sew, and Jonathan—a doctor right out of school—for helping the people of the village. As they become adults and the time to fulfill their promise seems right, a tragic event pulls them apart, making both question their future. Will they discover they are stronger together than apart?
 
MENDED HEARTS by Stephanie Grace Whitson
1890 – Nebraska
Rachel Ellsworth has always been encouraged to pursue her passion for art. She looks forward to taking the Grand Tour on her honeymoon and experiencing the great museums of Europe. But when tragedy strikes, Rachel's plans are put on hold and she is forced to stay with two maiden aunts in a small Nebraska town where the most exciting things that ever happen are quilting bees and the county fair. Rachel expects her stay in Lost Creek to be temporary—until a letter from home changes everything. How can a budding artist who loves the big city expect to find happiness in the middle of nowhere? 
About the Author
JUDITH MCCOY MILLER is an award-winning author whose avid research and love for history are reflected in her novels, many of which have appeared on the CBA bestseller lists. Judy makes her home in Topeka, Kansas. 
www.judithmccoymiller.com
Nancy Moser is an award-winning author of over twenty-five novels that share a common message: we each have a unique purpose—the trick is to find out what it is. Her genres include contemporary and historical novels including
Love of the Summerfields
,
Mozart's Sister
,
The Invitation,
and the Christy Award-winning
Time Lottery
. She is a fan of anything antique—humans included.
www.nancymoser.com
.
Stephanie Grace Whitson, bestselling author and two-time Christy finalist, pursues a full-time writing and speaking career from her home studio in southeast Nebraska. Her husband and blended family, her church, quilting, and Kitty--her motorcycle--all rank high on her list of "favorite things." Learn more at
www.stephaniewhitson.com
.