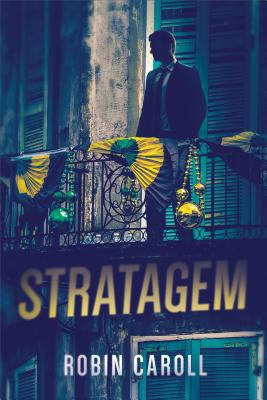 Stratagem (Paperback)
Shiloh Run Press, 9781683227304, 320pp.
Publication Date: November 1, 2018
* Individual store prices may vary.
Description
A High-Stakes Simulation Adventure Leaves Grayson Thibodeaux the Prime Suspect. . .for Murder
 
Deep in the gritty underbelly of New Orleans, psychologist Grayson Thibodeaux loses everything when his wife leaves him to climb her company's corporate ladder. He buries himself in his job of creating mind-bending adventure games for businesses as team-building explorations. When his ex-wife's company hires Grayson's to create an elaborate game, he doesn't see how things can get worse. Until she dies during the course of the game he created…making him the prime suspect for murder.
 
About the Author
"I love boxing. I love Hallmark movies. I love fishing. I love scrapbooking. Nope, I've never fit into the boxes people have wanted to put me in." Robin Caroll is definitely a contradiction, but one that beckons you to get to know her better. Robin's passion has always been to tell stories to entertain others and come alongside them on their faith journey—aspects Robin weaves into each of her twenty-five-plus published novels. When she isn't writing, Robin spends quality time with her husband of nearly three decades, her three beautiful daughters and two handsome grandsons, and their character-filled pets at home. Robin gives back to the writing community by serving as executive director/conference director for ACFW. Her books have been recognized in such contests as the Carol Award, Holt Medallion, Daphne du Maurier, RT Reviewer's Choice Award, Bookseller's Best, and Book of the Year. You can find out more about Robin by visiting www.robincaroll.com.
 
Praise For Stratagem…
"Stratagem by Robin Caroll is high stakes suspense on steroids. The fine writing and atmospheric setting make this outstanding novel a standout. Highly recommended!"
-Colleen Coble, USA Today bestselling author of the Hope Beach series and the Lavender Tides series
 
"Follow the clues to find the murderer, but you may change your mind before the stunning end."
-
Richard L. Mabry, MD, Best-selling, award winning author of medical mysteries with heart
"There's no escaping Stratagem once you enter its deadly game! Caroll pens a riveting novel of intrigue and danger that leaves the reader anxious for justice—and escape! This book doesn't disappoint!"
–Ronie Kendig, author of the award-winning, bestselling Tox Files
 
"With Stratagem, Caroll has created a tightly twisted plot that will keep the reader guessing from the first chapter. Creative and unique, the book is a winner that will linger with readers."
–Cara Putman, award-winning author of Delayed Justice from the Hidden Justice series
Readers of Dee Henderson and Terri Blackstock will enjoy Caroll's high-octane thriller.
Caroll keeps readers guessing with through-the-roof suspense and great plotting.
— Patsy Glans