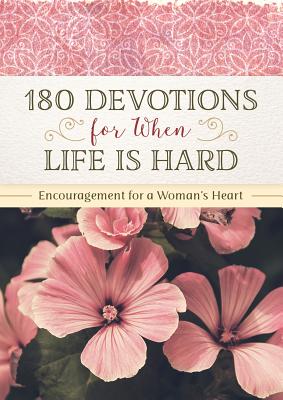 180 Devotions for When Life Is Hard (Paperback)
Encouragement for a Woman's Heart
Barbour Books, 9781683227731, 192pp.
Publication Date: December 1, 2018
* Individual store prices may vary.
Description
Life Is Good. . . Praise God!
Life Not Going So Well? . . . Praise God! . . .

Do you find that it's easy to praise God when life is going well—the bills are paid, family members are healthy and thriving, and every day is smooth sailing—but difficult to muster up genuine praise when life isn't going so well?

With 180 Devotions for When Life Is Hard, you will discover just the comfort and encouragement your heart needs for the areas of life that truly matter to you, including family, finances, work, health, faith, and so much more. Whatever life brings your way—through every mountain and valley—you will encounter words that uplift and inspire your soul in this lovely devotional. 
About the Author
Renae Brumbaugh Green lives in Texas with her handsome country-boy husband, her noisy children, a rowdy dog, and a bunch of chickens and ducks. She's published more than 25 books and a whole bunch of articles. Her favorite color is blue, unless you're talking about nail polish, in which case her favorite color is bubblegum pink.