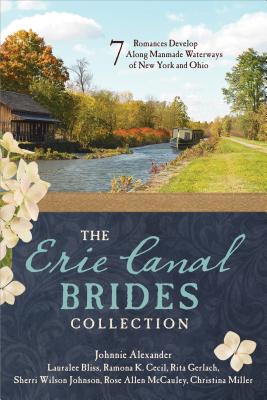 The Erie Canal Brides Collection (Paperback)
7 Romances Develop Along Manmade Waterways of New York and Ohio
Barbour Books, 9781683228677, 448pp.
Publication Date: March 1, 2019
* Individual store prices may vary.
Description
Seven romance stories take you back to the building of the Erie Canal and the opening of the Midwest to greater development.

Completed in 1825, the Erie Canal connected the Great Lakes to the Hudson River, and soon other states like Ohio created canals linking Lake Erie to the Ohio River. Suddenly the Midwest was open to migration, the harvesting of resources, and even tourism. Join seven couples who live through the rise of the canals and the problems the waterways brought to each community, including land grabs, disease, tourists, racism, and competition. Can these couples hang on to their faith and develop love during times of intense change?

The Way of a Child by Lauralee Bliss
Little Falls, New York 1817
Widower David Marshall has no interest in selling his farm to the Erie Canal project presented by agent Ray O'Neil and his daughter Melanie. But his sons Matthew and Luke have taken a peculiar liking to Melanie. What the children reveal paves the way to a surprising future.    
 
Wedding of the Waters by Rita Gerlach
Goshen Creek, New York. 1819
Charlotte Verger, a physician's niece, is unexpectedly reunited with her first and only love, Blaine McKenna.  When word comes that the Erie Canal builders at the Montezuma Swamp, where Blaine is working as a surveyor, are stricken with malaria, Charlotte risks a journey to reach him.
 
Digging for Love by Ramona K. Cecil
Rochester, New York 1822
For budding artist Emily Nichols, the coming Erie Canal brings dreams of leaving Rochester for the art markets of New York City. As he builds the canal, Irish laborer Seamus O'Grady is building his American dream in Rochester. When hearts meld, divergent dreams and old prejudices threaten burgeoning love.
 
Return to Sweetwater Cove by Christina Miller
Sweetwater Cove, New York, 1825
Reverend Josiah Wells travels to his hometown to pastor the church and make restitution for his youthful sins. Betsy Bennett wants to honor her late husband's memory and make sure Sweetwater Cove never discovers the secret she shares with Josiah. Can they leave behind the past and find love beside still waters?

Journey of the Heart by Johnnie Alexander
Circleville, Ohio, early 1852
Charity Sinclair secretly writes abolitionist pamphlets while thwarting architect Tavish Dunbar's effort to redesign her father's post office, a hidden stop on the Underground Railroad. When a slave-hunter captures a runaway, Charity vows to rescue the fugitive. But can she trust Tavish with her secret. . .and with her heart?
 
Pressing On by Rose Allen McCauley
Zoar, Ohio, 1856
As a child, Amanda Mack loved her life in Zoar, Ohio, where she was born to Separatists. Now an adult, she starts to chafe at its many restrictions. After meeting riverboat captain Daniel Jeremiah, they both must make decisions about their futures. Can she leave or will he convert or…?

The Bridge Between Usby Sherri Wilson Johnson
Albion, New York, 1859
John Hawkins steps back into Susannah Higley's life just in time to save it. Despite her father's longstanding disdain for John's family, can Susannah and John settle the family feud and save her father's struggling sawmill—and their chance for love? Or will the feud continue? 
 
About the Author
LAURALEE BLISS has always liked to dream big dreams. Part of that dream was writing, and after several years of hard work, her dream of publishing was realized in 1997 with the publication of her first romance novel, Mountaintop, through Barbour Publishing. Since then she's had twenty books published, both historical and contemporary. Lauralee is also an avid hiker, completing the entire length of the Appalachian Trail both north and south. Lauralee makes her home in Virginia in the foothills of the Blue Ridge Mountains with her family. Visit her website at www.lauraleebliss.com and find her on Twitter and Facebook Readers of Author Lauralee Bliss.
RAMONA K. CECIL is a wife, mother, grandmother, freelance poet, and award-winning inspirational romance writer. Now empty nesters, she and her husband make their home in Indiana. A member of American Christian Fiction Writers and American Christian Fiction Writers Indiana Chapter, her work has won awards in a number of inspirational writing contests. Over eighty of her inspirational verses have been published on a wide array of items for the Christian gift market. She enjoys a speaking ministry, sharing her journey to publication while encouraging aspiring writers. When not writing, her hobbies include reading, gardening, and visiting places of historical interest.
RITA GERLACH lives in central Maryland with her husband and two sons. She is a best-selling author of eight inspirational historical novels including the Daughters of the Potomac series of which Romantic Times Book Review Magazine said, "Creating characters with intense realism and compassion is one of Gerlach's gifts."

 
Rose Allen McCauley has been writing since she retired from teaching school and joined American Christian Fiction Writers (ACFW). She is thrilled for this to be her third collection with Barbour. She and her spouse just celebrated their golden anniversary with their three children and spouses and now six grandchildren! She loves to hear from her readers. You can reach her through her website www.rosemccauley.com or twitter @RoseAMcCauley and on Facebook under Rose Allen McCauley.