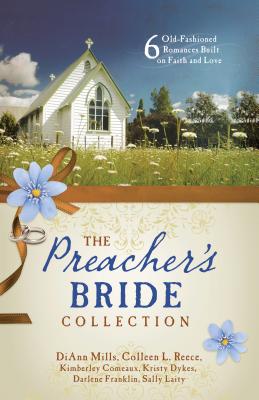 The Preacher's Bride Collection (Paperback)
6 Old-Fashioned Romances Built on Faith and Love
Barbour Books, 9781683228813, 480pp.
Publication Date: April 1, 2019
Other Editions of This Title:
Paperback (12/1/2014)
* Individual store prices may vary.
Description
It Takes an Extra Special Woman to Be a Preacher's Bride
Six men are dedicated to proclaiming God's Word—and six women wonder if they're cut out to support that calling.  Being a helpmate to a pastor is no easy task. They must step out in a special kind of faith and love to become preachers' brides. . . .  
Remember Me
by Kimberley Comeaux
North suffers an injury, loses his memory, and believes he is a Scottish pastor. Helen hopes he just might fall in love with her, if he isn't bound by his social standings as a duke.  
Shirley, Goodness, and Mercy
by Kristy Dykes
Shirley feels like she's never known anything of life beyond her little country church. She wants more out life. Then she meets Forrest Townsend, the new parson—who just might change her mind.  
In
Miss Bliss and the Bear
by Darlene Franklin
Annie knits hats and mittens for soldiers. But chaplain Jeremiah Arnold isn't sure he wants a woman hanging around the fort—even one as beautiful and well meaning as Miss Bliss. . . .  
A Bride for the Preacher
by Sally Laity
It's Emma's dream to doctor the needy, and she hopes there might be a place for her in new territory out west. She isn't interested in marriage—until she nurses a certain preacher's fever.  
Renegade Husband
by DiAnn Mills
Audra moves to frontier Colorado to marry the local pastor and is assured a life of adventure. She never realizes how much adventure until her stagecoach is robbed and her future husband seems to be the culprit. . . .  
Silence of the Sage
by Colleen L. Reece
Ever dutiful and just, Reverend Gideon Scott takes a bride in name only. But soon the reverend abandons both family and church in search of truth that will clear his tarnished name.
About the Author
Kimberley gets her inspiration from all sorts of places: travel, history, dreams and once over hearing (okay...eavesdropping on)  a conversation between a couple arguing in the grocery store line.  She not only is the author of 13 Inspirational romance books, but also writes and produces church musicals. She has been married for 28 years to her best friend, Brian, and has one son, Tyler, and a brand new daughter-in-law, Kellie! Kimberley resides with her family near New Orleans.
Kristy Dykes—wife to Rev. Milton Dykes, mother to two beautiful young women, grandmother, and native Floridian—was author of hundreds of articles, a weekly cooking column, short stories, and novels. She was also a public speaker whose favorite topic was on "How to Love Your Husband." Her goal in writing was to "make them laugh, make them cry, and make them wait" (a Charles Dickens's quote). She passed away from this life in 2008.
Bestselling author Darlene Franklin's greatest claim to fame is that she writes full-time from a nursing home. She lives in Oklahoma, near her son and his family, and continues her interests in playing the piano and singing, books, good fellowship, and reality TV in addition to writing. She is an active member of Oklahoma City Christian Fiction Writers, American Christian Fiction Writers, and the Christian Authors Network. She has written over fifty books and more than 250 devotionals. Her historical fiction ranges from the Revolutionary War to World War II, from Texas to Vermont. You can find Darlene online at www.darlenefranklinwrites.com
 
Sally considers it a joy to know that the Lord can touch other hearts through her stories. She has written both historical and contemporary novels, including a co-authored series for Tyndale House and another for Barbour Publishing, nine Heartsong Romances, and twelve Barbour novellas. Her favorite pastimes include quilting for her church's Prayer Quilt Ministry and scrapbooking. She makes her home in the beautiful Tehachapi Mountains of southern California with her husband of over fifty years and enjoys being a grandma and great-grandma.
 
DiAnn Mills is a bestselling author who believes her readers should expect an adventure. She weaves memorable characters with unpredictable plots to create action-packed, suspense-filled novels. DiAnn believes every breath of life is someone's story, so why not capture those moments and create a thrilling adventure?
Her titles have appeared on the CBA and ECPA bestseller lists; won two Christy Awards; and been finalists for the RITA, Daphne Du Maurier, Inspirational Readers' Choice, and Carol award contests.
DiAnn is a founding board member of the American Christian Fiction Writers, a member of Advanced Writers and Speakers Association, Mystery Writers of America, Sisters in Crime, and International Thriller Writers. She is co-director of The Blue Ridge Mountain Christian Writers Conference, Mountainside Marketing Conference, and the Blue Ridge Novelist Retreat with social media specialist Edie Melson where she continues her passion of helping other writers be successful. She speaks to various groups and teaches writing workshops around the country.
DiAnn has been termed a coffee snob and roasts her own coffee beans. She's an avid reader, loves to cook, and believes her grandchildren are the smartest kids in the universe. She and her husband live in sunny Houston, Texas.
DiAnn is very active online and would love to connect with readers on: Facebook, Twitter, or any of the social media platforms listed at diannmills.com.  
 
COLLEEN L. REECE was born and raised in a small western Washington logging town. She learned to read by kerosene lamplight and dreamed of someday writing a book. God has multiplied Colleen's "someday" book into more than 150 titles that have sold six million copies. Colleen was twice voted Heartsong Presents' Favorite Author and later inducted into Heartsong'sHall of Fame. Several of her books have appeared on the CBA Bestseller list.