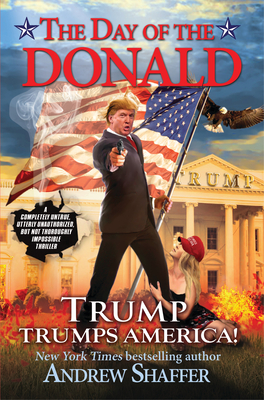 The Day of the Donald (Paperback)
Trump Trumps America
Crooked Lane Books, 9781683310457, 288pp.
Publication Date: June 28, 2016
* Individual store prices may vary.
Description
THERE S GOING TO BE HELL TOUPEE
On January 20, 2017, on the steps of the U.S. Capitol in Washington, D.C., a tall, orange man with a dubious hairline places his hand on a paperback of "The Art of the Deal" and pledges to defend the Constitution of the United States, whatever that is. Before the sun sets on this hugely momentous day, the real-estate mogul-turned-reality show star-turned-leader of the hypothetically Free World reclines in the Oval Office, a glass of Trump Ice in his little hand. He Skypes in with his BFF Vladimir Putin; assembles his Cabinet and White House staff, including a former Miss Universe as chief of staff; and procures some sizzling new lingerie for the new First Lady.
Two years later, as the increasingly ironically named United States of America barrels toward war with the United Kingdom, and the never-quite-finished Mexican wall is continually breached by refugees (risking their lives to get "to" Mexico), disgraced ex-tabloid reporter Jimmie Bernwood drags himself through his days freelancing for chump change...until The Donald plucks him from the depths of despair.
Jimmie becomes the president's official biographer, giving him enviable access to the gold-plated Trump White House and all of its secrets.
About the Author
Andrew Shaffer is the New York Times bestselling author of Fifty Shames of Earl Grey: A Parody. His line of tongue-in-cheek "Christmas cards for atheists" were denounced by Stephen Colbert on Comedy Central's The Colbert Report as "un-American." This is his first thriller.
or
Not Currently Available for Direct Purchase