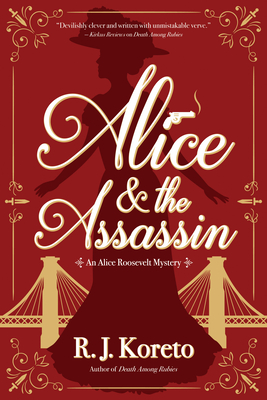 Alice and the Assassin
An Alice Roosevelt Mystery
Hardcover

* Individual store prices may vary.
Other Editions of This Title:
Paperback (5/8/2018)
Library Binding, Large Print (5/1/2017)
Description
In 1902 New York, Alice Roosevelt, the bright, passionate, and wildly unconventional daughter of newly sworn-in President Theodore Roosevelt, is placed under the supervision of Secret Service Agent Joseph St. Clair, ex-cowboy and veteran of the Rough Riders. St. Clair quickly learns that half his job is helping Alice roll cigarettes and escorting her to bookies, but matters grow even more difficult when Alice takes it upon herself to investigate a recent political killing—the assassination of former president William McKinley.

Concerned for her father's safety, Alice seeks explanations for the many unanswered questions about the avowed anarchist responsible for McKinley's death. In her quest, Alice drags St. Clair from grim Bowery bars to the elegant parlors of New York's ruling class, from the haunts of the Chinese secret societies to the magnificent new University Club, all while embarking on a tentative romance with a family friend, the son of a prominent local household.

And while Alice, forced to challenge those who would stop at nothing in their greed for money and power, considers her uncertain future, St. Clair must come to terms with his own past in Alice and the Assassin, the first in R. J. Koreto's riveting new historical mystery series.
Praise For Alice and the Assassin: An Alice Roosevelt Mystery…
Praise for Alice and the Assassin:
"Alice and the Assassin is a great debut in a new series for fans of historical mystery. I loved spending time with feisty Alice Roosevelt in her role as a sleuth, and in the company of her sharp young Secret Service Agent, Mr. St. Clair. It's a delightful read and left me wanting more."
—Linda Fairstein, NYT bestselling author of the Alexandra Cooper mysteries

"R.J. Koreto gives us a fascinating glimpse into the lives of the Roosevelts in this intriguing whodunit. Alice is a feisty, independent woman of her time, and her bodyguard, Mr. St. Clair, is a perfect foil with his calm demeanor and dry humor. Smooth writing and an eye for detail adds to this captivating mystery."
—Kate Kingsbury, national bestselling author of the Pennyfoot Hotel mysteries

"The premise and the depictions of the turn-of-the-century Manhattan melting pot shine, heralding a promising series."
—Publishers Weekly

"The first daughter's lively personality, her chemistry with her Secret Service agent, and Koreto's...detailed knowledge of turn-of-the century New York City make for an entertaining series debut."
—Kirkus Reviews

"This is a fun start to a new series, with characters that will leave readers hungry for more. Alice Roosevelt...is endearing in her own feisty, irreverent way. Joseph St. Clair...makes an entertaining and sexy cowboy counterpart. Their back‐and‐forth banter is smartly hilarious and...their investigative skills are well‐plotted and well‐paced."
—RT Book Reviews

"A delightful book...The fictionalized Alice is an entertaining creation and one of whom the actual Alice probably would've approved ."
—NY Journal of Books

"This is a really fun ride ...this is the very first title in what looks to be an incredible new series."
—Suspense Magazine
Crooked Lane Books, 9781683311126, 288pp.
Publication Date: April 11, 2017
About the Author
R. J. Koreto, a business and financial journalist, has over the years been a magazine writer and editor, website manager, PR consultant, and seaman in the U.S. Merchant Marine. A graduate of Vassar College, he is author of the Lady Frances Ffolkes mystery series, a member of Mystery Writers of America, and has been published in Ellery Queen's Mystery Magazine and Alfred Hitchcock's Mystery Magazine. This is his first Alice Roosevelt mystery.
or
Not Currently Available for Direct Purchase