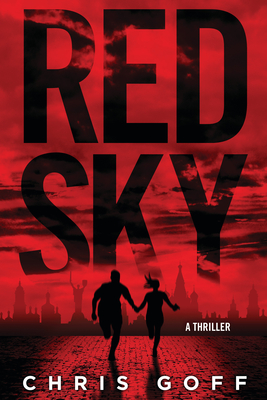 Red Sky
A Raisa Jordan Thriller
Hardcover

* Individual store prices may vary.
Description
When People's Republic Flight 91 crashes in northeastern Ukraine with a U.S. diplomatic agent onboard, U.S. Diplomatic Security Service Agent Raisa Jordan is sent to investigate. The agent was escorting a prisoner home from Guangzhou, China, along with sensitive documents, and it quickly becomes apparent that the plane was intentionally downed. Was it to silence the two Americans onboard?

To avoid a diplomatic incident, Jordan must discover what the Americans knew that was worth killing hundreds to cover up. With Russia deeply entangled in the Ukraine and the possibility that China could be hiding reasons to bring down its own plane, tensions are high.

As international relations and even more lives hang in the balance, Jordan races to stop a new Cold War. Red Sky, Chris Goff's pulse-pounding follow-up to Dark Waters, is yet another white-knuckle joyride for fans of Gayle Lynds.
Praise For Red Sky: A Raisa Jordan Thriller…
"Praise for Red Sky:
""Breathtaking suspense, do not miss Red Sky.""
—Catherine Coulter, #1 New York Times bestselling author of The Devil's Triangle

""[A] fine sequel...Jordan's indomitable spirit keeps her moving forward, especially when the bad guys, and even the good guys, tell her to back off.""
—Publishers Weekly

"Jordan makes a fine lead character. Give this to readers who like Matthew Palmer's blend of diplomacy and thrills."
—Booklist

""Suspenseful and entertaining. Chris Goff writes with a sure hand and knows how to keep the reader turning the pages...Add her name to the growing list of excellent female thriller writers such as Taylor Stevens, Jamie Freveletti and Zoe Sharp.""
—Deadly Pleasures

""Full of action, suspense, chase scenes, stolen identities, and enough second guessing to make you wonder what the next page will bring....The ending is perfect and makes this action-packed thriller a must read.""
—Fresh Fiction

Praise for Dark Waters:
NOMINATED FOR THE 2016 ANTHONY AWARD FOR BEST CRIME FICTION AUDIOBOOK
FINALIST FOR THE 2016 COLORADO BOOK AWARD-THRILLER
NOMINATED FOR THE 2016 COLORADO AUTHORS' LEAGUE AWARD-GENRE
NOMINATED AS THE ROCKY MOUNTAIN FICTION WRITERS' 2016 WRITER OF THE YEAR

""Great characters, action, and location—altogether terrific.""
—Lee Child, #1 New York Times bestselling author

"Strong first thriller."
—Publishers Weekly on Dark Waters

""Goff, known for her intriguing mysteries, reveals a knack for thrillers...Goff has a winner with Raisa as a series lead. A sure bet fans of international thrillers.""
—Booklist

""Goff combines cultural detail, rich geographic description, and countless plot twists to create an engaging and satisfying thriller.""
—Foreword Reviews

""From the first sentence I was caught in the book...I actually felt like I was right there in the middle of the action. I didn't want to put the book down, I was hooked.""
—Night Owl Reviews

""Breakneck pacing, fascinating characters and depth of content make DARK WATERS a welcome addition to the world of thrillers. This is sure to be a breakout step for Goff.""
—The Denver Post

""One of my first thoughts was that this novel was going to make Alan Dershowitz jealous...his thrillers set in Israel have nothing on Chris Goff.""
—Israel Thrives

""A solid, well told story from a unique perspective.""
—Reviewing the Evidence

""Whip-smart, informed, and tightly woven, Chris Goff's international thriller Dark Waters reeks of authenticity and intrigue. Through her frank depictions of modern-day Israel, and on the backs of nuanced characters, Goff has fashioned a story that unfolds at a blistering pace, and feels like it all could happen tomorrow. Writing like a seasoned pro, she crushes the genre in her debut effort.""
—Mark Sullivan, #1 New York Times bestselling co-author of Private L.A. and Thief

""A darkly intense story with all the right moves. Goff has crafted one heck of a thriller. Great characters, cool setting, and sharp, tight writing make Dark Waters a sure winner.""
—J.T. Ellison, New York Times bestselling author of What Lies Behind

"Edgy and exciting...Rich with detail and bristling with suspense, you'll want to put your life on hold to read this first-rate thriller."
—Gayle Lynds, New York Times bestselling author of The Book of Spies

"Chris Goff's Dark Waters is one of the best thrillers I've read in a long time. The characters are real, the story is compelling and the action is heart-stopping. This one's a sure thing."
—John Gilstrap, New York Times bestselling author of Against All Enemies and the Jonathan Grave thriller series

""Dark Waters is Chris Goff's breakout book. A relentless international thriller with a terrifying topic and an impressive heroine, Raisa Jordan. It's been a while since I had such fun reading the work of a fellow writer. Well done!""
—David Morrell, New York Times bestselling author of First Blood, Brotherhood of the Rose, and Murder as a Fine Art"
Crooked Lane Books, 9781683311263, 320pp.
Publication Date: June 13, 2017
About the Author
Chris Goff, an award-winning mystery author, began her career as a newspaper columnist. She has taught writing workshops and served on the board of Mystery Writers of America. Her debut thriller, Dark Waters, is a nominee for the 2016 Anthony Award for Best Crime Fiction Audiobook, and was a finalist for both the 2016 Colorado Book Award and 2016 Colorado Authors' League Award. She lives in Colorado.
or
Not Currently Available for Direct Purchase