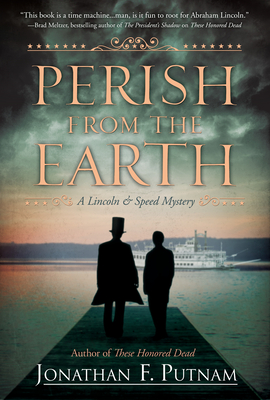 Perish from the Earth
A Lincoln and Speed Mystery
Hardcover

* Individual store prices may vary.
Other Editions of This Title:
Digital Audiobook (7/10/2017)
Paperback (6/12/2018)
MP3 CD (7/11/2017)
Compact Disc (7/11/2017)
Compact Disc (7/11/2017)
Description
A murder aboard a steamboat forces Abraham Lincoln to make a fateful choice—one on which the future of the nation may hang, if his client doesn't first—in this gripping follow-up to the "masterfully crafted" These Honored Dead (Alex Grecian)

Newly minted trial lawyer Abraham Lincoln is riding the circuit, traveling by carriage with other lawyers and a judge to bring justice to the remote parts of Illinois. Meanwhile, Lincoln's close friend Joshua Speed steams up the Mississippi River aboard a steamboat owned by Speed's father. Suddenly, his journey is interrupted when a rigged card game turns to violence—and then murder.

Speed enlists Lincoln to defend the accused, but soon they come to discover that more than just the card games are crooked aboard the Speed family's ship. As the day of judgment hurtles toward them, Lincoln must fight to save the life of his client while also preserving the cause he holds so dear.

Meticulously researched and deftly plotted, Jonathan F. Putnam's second Lincoln and Speed mystery, Perish from the Earth, revolves around a true historical murder that, while nearly forgotten today, was one of the most infamous crimes of the nineteenth century and played a key role in driving the nation toward civil war.
Praise For Perish from the Earth: A Lincoln and Speed Mystery…
Praise for Perish from the Earth:
"This is the second book in the incredible Lincoln & Speed series, and is even better than the first...It's highly interesting to see Honest Abe's early days, and hopefully Putnam is at his keyboard right now creating the next title in this truly cool series."
—Suspense Magazine on Perish from the Earth

"An entertaining and well-researched murder mystery...both a mystery and a legal thriller, with well-paced courtroom scenes as well as intrigue...Putnam's notes provide context for the historical figures who appear as characters and demonstrate his expertise as a Lincoln scholar."
—Booklist

"Enough historical accuracy to satisfy a Civil War re-enactor and enough courtroom proceedings to reveal the author as the Harvard-trained attorney that he is. A mystery for history buffs and legal eagles."
—Kirkus

"Putnam successfully integrates the politics of 1837 America into his solid second mystery...The dramatic denouement, which features Lincoln's vaunted courtroom skills, provides a satisfying resolution."
—Publishers Weekly

"Plenty of intrigue to delight mystery genre enthusiasts, enough historical accuracy to placate any history buff, and sufficient courtroom drama to satisfy any legal eagle."
—NY Journal of Books

"Putnam's research is exceptional, giving attention to historical detail and dialogue...An excellent choice for both fans of historical murder mysteries and of accurate historical fiction."
—Historical Novels Review

"In all, the book is meticulously researched—as evidenced from the beginning with a scene on the riverboat—firmly rooted in its time and place, and manages to create a whole cast and story that seems real and never contrived despite the concept of Lincoln as co-lead in a mystery series."
—Criminal Element

"One of the best books I have read in a long time. I can't recommend it highly enough. If you are either a mystery buff or a history buff, this book is for you. If you happen to be both, I'm certain you will be captivated by its raw and honest look at this part of American history and by the beauty of the language used to portray the people, both real and imaginary."
—MyShelf.com

Praise for These Honored Dead:
"Putnam's well-researched first novel...does a fine job presenting a recognizable young Abraham Lincoln."
—Publishers Weekly starred review

"[A] well-researched debut mystery...Eye-opening historical details on hunting runaway slaves and 19th-century poorhouses will interest readers who enjoy works by Caleb Carr and E.L. Doctorow."
—Library Journal

"Lawyer Putnam bases his debut novel on a solid historical foundation...in the first of what looks to be a winning historical-mystery series."
—Booklist

"This book is a time machine, and the mystery at its core is equally elegant and brutal. Just like our history. But, man, is it fun to root for Abraham Lincoln."
—Brad Meltzer, bestselling author of The President's Shadow

"What a splendid debut novel! Jonathan Putnam combines an historian's understanding of character and context with a remarkable narrative drive that kept me fascinated from start to finish as I tried to figure out how the mystery would unfold. I read history during the days and mysteries every night before going to sleep, so for me, These Honored Dead was one of the most enjoyable works of fiction I have read in a long time."
—Doris Kearns Goodwin, Pulitzer Prize winner and author of The Bully Pulpit

"Putnam combines the historical fact of a lifelong friendship with lively fiction in a debut set on the edge of the American frontier."
—Kirkus

"Putnam takes the real-life friendship of Lincoln and Speed and spins a wonderful fictional history of their first years together...A well-researched book that will appeal to fans of historical fiction, and a book that should be on a Lincoln buff's reading list."
—Historical Novel Society

"These Honored Dead feels so completely authentic that it might very well be a recovered journal from the nineteenth century, peopled with true-life investigators named Lincoln and Speed. But the pacing is so assured, and the mystery is so intriguing that it can't be anything but a masterfully crafted modern novel. Jonathan Putnam has crafted the most gripping debut in years, and I can't wait to read his next book."
—Alex Grecian, national bestselling author of the Scotland Yard Murder Squad series

"Young Mr. Lincoln makes a crackerjack detective. He and the narrator, Speed, are a fine Holmes and Watson. Putnam's book is historical mystery at its best."
—Will Thomas, Barry and Shamus Award-nominated author of Anatomy of Evil

"Anatomy of a Murder, frontier-style; Lincoln lives again in this sharp and engaging period mystery. Great characters, solid research, and effective twists."
—Stephen Gallagher, critically-acclaimed author of The Kingdom of Bones and The Bedlam Detective
Crooked Lane Books, 9781683311393, 304pp.
Publication Date: July 11, 2017
About the Author
Jonathan F. Putnam is a writer and attorney. A graduate of Harvard College and Harvard Law School, he is a nationally renowned trial lawyer and avid amateur Lincoln scholar. He currently lives with his family in London, England. This is his second Lincoln and Speed mystery following These Honored Dead.
or
Not Currently Available for Direct Purchase