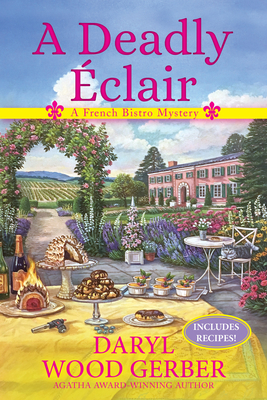 A Deadly Eclair
A French Bistro Mystery
Hardcover

* Individual store prices may vary.
Other Editions of This Title:
Paperback (6/12/2018)
Description
It's always been Mimi Rousseau's dream to open her own bistro, but it seems beyond her grasp since she's been chased back home to Nouvelle Vie in Napa Valley by her late husband's tremendous debt. Until her best friend Jorianne James introduces her to entrepreneur Bryan Baker who invests in promising prospects. Now, working the bistro and inn until she's able to pay it off and call it her own, Mimi is throwing the inn's first wedding ever.

The wedding will be the talk of the town, as famous talk show host Angelica Edmonton, daughter of Bryan's half-brother, Edison, has chosen the inn as her perfect venue. Anxious, Mimi is sure things are going to turn south, especially when Edison gets drunk and rowdy at the out-of-towners' dinner, but by the evening, things begin to look up again. That is until six AM rolls around, and Bryan is found dead at the bistro with an éclair stuffed in his mouth. And the fingers point at Mimi, whose entire loan is forgiven in Bryan's will.

Now it's up to Mimi to clear her name and get to the bottom of things before the killer turns up the heat again in A Deadly Éclair, the scrumptious series debut by Agatha Award-winning author Daryl Wood Gerber.
Praise For A Deadly Eclair: A French Bistro Mystery…
Praise for A Deadly Eclair:
"A truly riveting read from cover to cover...and the kind of deftly crafted and impressively original mystery that will prove to be an exceptionally popular addition to community library collections."
—Midwest Book Review

"A Deadly Éclair is like having dinner with old friends. It has the laughter, the stories, the fun and the good food all in one cozy."
—BB Haywood, NYT bestselling author of the Candy Holliday mysteries

"Daryl Wood Gerber cooks up an intriguing tale of bistro business gone terribly wrong. The Napa Valley setting is perfect for the cast of quirky California characters, and Gerber draws us into the bistro scene with descriptions of mouth-watering meals that will make you want to buy a ticket west. A delectable entree in the French Bistro mysteries."
—Edith Maxwell, Agatha-nominated and national bestselling author of the Local Foods mysteries and the Quaker Midwife mysteries

"A delicious and charming new series by Daryl Wood Gerber, A Deadly Éclair is a sensory trip to the California Coast complete with a whodunit that will keep you turning the pages until the very end. Mimi Rousseau is smart, down-to-earth and relatable, and her sleuthing skills are topped only by the French cuisine she whips up with Chef C in her bistro. I can't wait to sit down with a glass of wine and read the next book in this series."
—Nancy Coco, national bestselling author of the Candy-Coated mysteries

"Ooh-la-la! French food, Napa Valley wine, a celebrity wedding—and murder. A delectable new cozy series from Daryl Wood Gerber!"
—Lucy Burdette, bestselling author of the Key West Food Critic mysteries

"This is the first in a new series by a great author who has proven time and time again that she writes nothing but the best. There are even scrumptious recipes included that will have readers absolutely drooling."
—Suspense Magazine

"With a dozen books to her credit, Gerber is a seasoned pro and has a very smooth and appealing way of telling a story...All in all, an extremely pleasant read which serves as a great setup for a new series."
—Mystery Scene Magazine

"A Deadly Éclair is a riveting mystery you can connect with and has well-rounded characters, strong emotions, and a light touch of romance."
—Manhattan Book Review
Crooked Lane Books, 9781683313410, 320pp.
Publication Date: November 7, 2017
About the Author
Agatha Award-winning Daryl Wood Gerber writes the brand new French Bistro mysteries as well as the nationally bestselling Cookbook Nook mysteries. She also pens the Cheese Shop mysteries, as Avery Aames. A Deadly Éclair, the first French Bistro mystery, comes out November 2017. Daryl has also written stand-alone suspense novels, including Days of Secrets and Girl on the Run. Fun tidbit: as an actress, Daryl appeared in Murder, She Wrote. She loves to cook, and she has a frisky Goldendoodle named Sparky who keeps her in line!