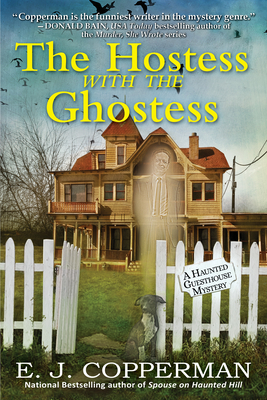 The Hostess with the Ghostess (Hardcover)
A Haunted Guesthouse Mystery
Crooked Lane Books, 9781683314509, 336pp.
Publication Date: January 9, 2018
Other Editions of This Title:
Paperback (12/11/2018)
* Individual store prices may vary.
Description
Solving a murder way too close to home, Alison Kerby can't catch a break.

If Alison Kerby really wanted peace and quiet, she never should have opened the Haunted Guesthouse. The Jersey Shore lodge's latest polter-guest is Richard Harrison, the recently murdered brother of long-time resident ghost PI Paul Harrison.

Alas, a beyond-the-grave brotherly reunion is nowhere in the foreseeable future—phantasmal Paul left the guesthouse months ago for parts unknown, and for all her ghost-whispering prowess, Alison has no idea how to find him. And she's going to need Paul, because Richard's isn't the only murder still unsolved.

Richard, a lawyer in life, tells Alison that he had been working the case of a woman accused of murdering her stepfather. When Richard got too close to the truth, he was permanently silenced. Now, as Alison searches for Paul, she gets a creeping sensation that the murderer doesn't appreciate her snooping around. If she doesn't succeed in her hunt, she has the feeling that she'll be the next to haunt the house.

Raise your spirits with The Hostess With the Ghostess, the latest installment of Barry Award-winning author E. J. Copperman's national bestselling Haunted Guesthouse mysteries.
About the Author
E. J. Copperman is the author of a number of mystery series, including the Mysterious Detective series (Edited Out), the Haunted Guesthouse series (Spouse on Haunted Hill) and with Jeff Cohen, the Asperger's mystery series (The Question of the Felonious Friend). E. J.'s newest, the Agent to the Paws mystery series, began this year. It is exhausting for E. J. just to think about it.
Praise For The Hostess with the Ghostess: A Haunted Guesthouse Mystery…
Praise for The Hostess With the Ghostess:
"Enjoyable [and] amusing."
—Publishers Weekly

"This is the new fast-paced Haunted Guesthouse Mystery that fans of the series will absolutely love...Charm, suspense, humor, and characters you will not soon forget."
—Suspense Magazine

"The writing is wonderful, with the author's s trademark laugh-out-loud wit and intelligence, well-plotted mystery and very well-drawn characters, alive or otherwise...Thoroughly delightful, and highly recommended."
—Midwest Book Review

"The writing is wonderful, with the author's trademark laugh-out-loud wit and intelligence, well-plotted mystery and very well-drawn characters, alive or otherwise...Thoroughly delightful, and highly recommended."
—Gloria Feit, Spinetingler Magazine

Praise for the Haunted Guesthouse mysteries:
"Wonderful...a laugh-out-loud, fast-paced and charming tale."
—Kate Carlisle, New York Times bestselling author of the Bibliophile mysteries on Inspector Specter

"Fans of Charlaine Harris and Sarah Graves will relish this original, laugh-laden paranormal mystery featuring reluctant ghost whisperer Alison Kerby, a Topper for the twenty-first century."
—Julia Spencer-Fleming, New York Times bestselling author of Through the Evil Days on Inspector Specter

"A couple of demanding ghosts, a quick-witted heroine, a creaky old house and a delightful cast of characters...What a fun and enjoyable story!"
—Leann Sweeney, New York Times bestselling author of the Cats in Trouble mysteries on Inspector Specter

"Copperman, as per usual, blends comedy and drama and weaves a clever plot...[A] perfect cozy mystery read. I can't say enough about this series, except to say if you haven't picked one up by now, you are missing a sensational read."
—Night Owl Reviews Top Pick on The Thrill of the Haunt

"When combined with the author's trademark humor and keen writing, readers will be wishing that the novel and the series never end."
—Kings River Life Magazine on The Thrill of the Haunt

"Alison has a wry sense of humor and is written so well it is easy to imagine her as your sardonic sister or friend...With an outstanding cast of characters, a well-plotted mystery and some sentimental reunions, this is a standout series."
—The Mystery Reader on Chance of a Ghost

"[An] entertaining mystery full of humor with absolutely charming and likable characters and a plot that flies at full speed. Copperman writes dialogue that bites with sharp wit but never sacrifices its heart."
—Kings River Life Magazine on Chance of a Ghost

"An entertaining and spellbinding tale in which the ghosts come across as real, as each brings melancholy and humor."
—The Mystery Gazette on Old Haunts

"Great fun with a tinge of salt air."
—The Mystery Reader on Old Haunts

"An entertaining read that never disappoints."
—Night Owl Reviews on Old Haunts

"E.J. Copperman serves readers a cocktail of haunted humor and a killer mystery ...Not only is Alison's dry sense of humor and hilarious commentary on other characters enough to give this book ten stars, but even the ghosts and their former lives are written to perfection."
—Fresh Fiction on Old Haunts

"Funny and charming, with a mystery which has a satisfying resolution, and an engaging protagonist who is not easily daunted...Highly recommended."
—Spinetingler Magazine on An Uninvited Ghost

"Witty, charming, and magical."
—The Mystery Gazette on Night of the Living Deed

"A fast-paced, enjoyable mystery with a wise-cracking, but no-nonsense, sensible heroine...Readers can expect good fun from start to finish."
—The Mystery Reader on Night of the Living Deed

"If you love classic caper comedies, as I do, you'll have a real affinity for the tart-tongued Alison Kerby and her lively entourage."
—Claudia Bishop, author of the Hemlock Falls mysteries
or
Not Currently Available for Direct Purchase