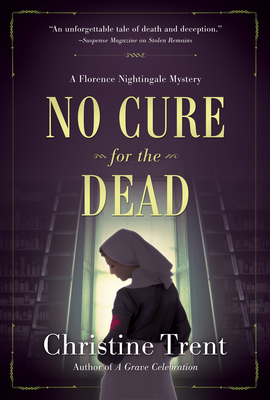 No Cure for the Dead
A Florence Nightingale Mystery
Hardcover

* Individual store prices may vary.
Other Editions of This Title:
Compact Disc (1/29/2019)
Compact Disc (1/29/2019)
MP3 CD (1/29/2019)
Description
When a young nurse dies on her watch, Florence Nightingale must uncover the deep-hidden secrets someone will kill to keep buried.

It is 1853. Lady of the Lamp Florence Nightingale has just accepted the position of Superintendent of the Establishment for Gentlewomen During Temporary Illness in London. She has hardly had time to learn the names of the nurses in her charge when she suddenly finds one of them hanging in the Establishment's library. Her name was Nurse Bellamy.

Florence's mettle is tested by the dual goals of preserving what little reputation her hospital has and bringing Nurse Bellamy's killer to justice. Her efforts are met with upturned noses and wayward glances except for her close friend and advocate inside the House of Commons, Sidney Herbert. As Florence digs deeper, however, her attention turns to one of the hospital investors and suddenly, Sidney becomes reluctant to help.

With no one but herself to count on, Florence must now puzzle out what the death of an unknown, nondescript young nurse has to do with conspiracies lurking about at the highest levels of government before she's silenced too.

For fans of Anne Perry and Laurie R. King comes No Cure for the Dead, the rich and enthralling series debut from Christine Trent.
Praise For No Cure for the Dead: A Florence Nightingale Mystery…
Praise for No Cure for the Dead:
"Skillfully blending the stories of actual people with fictional characters, including several from her 'Lady of Ashes' series, Trent weaves a serious tale with a sobering tone that will appeal to fans of Nancy Herriman's British-born nurse."
—Library Journal

"A natural fit for fans of Ann Perry's William Monk mysteries."
—Booklist

"Trent transforms the Lady of the Lamp, Florence Nightingale, into a natural and formidable sleuth. Filled with fascinating historical details, a cast of diverting characters, and a perplexing mystery, No Cure for the Dead is a riveting to start to this new series."
—Anna Lee Huber, bestselling author of the Lady Darby mysteries

"Mystery meets medicine in No Cure for the Dead, Christine Trent's absorbing tale—a suspense-filled reimagining of the historic Florence Nightingale as a resolute sleuth, determined to keep both murderers and illness at bay. Weaving in authentic period details, Trent offers a fascinating glimpse into the grim world of nineteenth-century nursing, as well as the larger social conflicts of the day. Overall, an intriguing, well-crafted and satisfying read!"
—Susanna Calkins, author of the award-winning Lucy Campion historical mysteries

"The Lady with the Lamp proves herself to be no slouch as a sleuth in this historical mystery featuring nursing pioneer Florence Nightingale. The grislier aspects of murder—to say nothing of the only slightly less horrific details of 19th-century medical practice—are leavened with subtle humor, and sharp-eyed readers may spot characters from Ms. Trent's earlier series featuring Victorian undertaker Violet Morgan."
—Sheri Cobb South, author of the John Pickett mysteries

"With the formidable Florence Nightingale as sleuth, Christine Trent has crafted a clever mystery rich with details of common medical practices, and which also lets us peek into the upper-class world of mid-19th century London. Great fun."
—Nancy Herriman, author of the Bess Ellyott mysteries

"An engrossing murder mystery set in a 19th century version of a nursing-home with a cast of characters who might have stepped out of a Dickens novel."
—Rennie Airth, author of River of Darkness

"Clever and complex, with many hanging threads that are ably clipped by Florence during the denouement. Trent is doing double duty here: telling a great story, and educating the reader."
—Mystery Scene Magazine
Crooked Lane Books, 9781683315445, 336pp.
Publication Date: May 8, 2018
About the Author
In addition to the new Florence Nightingale mysteries, Christine Trent is the author of the Lady of Ashes historical mysteries, about a Victorian-era undertaker, as well as the author of three other historical novels. Christine's novels have been translated into Turkish, Polish, and Czech. She writes from her two-story home library, where she lives with her husband, five precocious cats, a large doll collection, entirely too many fountain pens, and over 4,000 catalogued books.