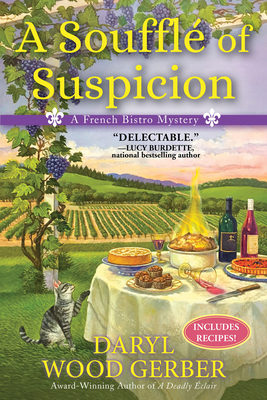 A Souffle of Suspicion (A French Bistro Mystery #2)
Hardcover

* Individual store prices may vary.
Description
When Chef Camille's sister turns up dead in the kitchen, it's up to Mimi Rousseau to tease the real killer out of a mélange of menacing characters

Crush Week in Nouvelle Vie is a madhouse—in a good way. Tourists pour into town for the pressing of the Napa Valley's world-renowned grapes and all the town's businesses get a nice lift, including Bistro and Maison Rousseau. Mimi is raising the ante this year with a Sweet Treats Festival, a wonderland of croissants, cakes, tarts, and soufflés crafted with expert care by the area's top talents.

Chef Camille's sister Renee is managing the festival with a cast-iron fist, upsetting everyone, including her sister. Which is bad for Camille when Renee turns up dead in the chef's kitchen. Mimi is still building her business, so her first course of action is to whip up answers and catch the unsavory perpetrator before Camille takes a dusting and gets burned.

Fans of JoAnna Carl and Joanne Fluke will want a succulent second serving of A Soufflé of Suspicion, Daryl Wood Gerber's appetizing second French Bistro mystery.
Praise For A Souffle of Suspicion (A French Bistro Mystery #2)…
Praise for A Souffle of Suspicion:
"Gerber ticks all the boxes for a successful cozy: a capable protagonist, intelligent dialogue, a fine sense of place, eccentric yet plausible suspects, and clues galore."
—Publishers Weekly

"[Gerber] creates colorful, enjoyable characters...One word of warning: her descriptions of the food and wine pairings are so very vivid and realistic that readers should not be hungry when they read this mystery. Happily, [Gerber] includes several of Mimi's recipes at the end of the book."
—Booklist

"[An] enjoyable cozy."
—Kirkus Reviews

"A sweet treat with dazzling characters, a sleuth full of charm, and blossoming romance."
—Seattle Book Review

"Just as delicious as the first...When it comes to the word "appetizing" you automatically think of food. But when it comes to the literary scene, this series is well beyond appetizing. Not only are the foods incredible (make sure to check out the awesome recipes provided), but the characters and plot are equally superb."
—Suspense Magazine

Praise for A Deadly Eclair:
"A Deadly Éclair is like having dinner with old friends. It has the laughter, the stories, the fun and the good food all in one cozy."
—BB Haywood, NYT bestselling author of the Candy Holliday mysteries

"Daryl Wood Gerber cooks up an intriguing tale of bistro business gone terribly wrong. The Napa Valley setting is perfect for the cast of quirky California characters, and Gerber draws us into the bistro scene with descriptions of mouth-watering meals that will make you want to buy a ticket west. A delectable entree in the French Bistro mysteries."
—Edith Maxwell, Agatha-nominated and national bestselling author of the Local Foods mysteries and the Quaker Midwife mysteries

"A delicious and charming new series by Daryl Wood Gerber, A Deadly Éclair is a sensory trip to the California Coast complete with a whodunit that will keep you turning the pages until the very end. Mimi Rousseau is smart, down-to-earth and relatable, and her sleuthing skills are topped only by the French cuisine she whips up with Chef C in her bistro. I can't wait to sit down with a glass of wine and read the next book in this series."
—Nancy Coco, national bestselling author of the Candy-Coated mysteries

"Ooh-la-la! French food, Napa Valley wine, a celebrity wedding—and murder. A delectable new cozy series from Daryl Wood Gerber!"
—Lucy Burdette, bestselling author of the Key West Food Critic mysteries
Crooked Lane Books, 9781683315865, 336pp.
Publication Date: July 10, 2018
About the Author
Agatha Award-winning author Daryl Wood Gerber writes the Cookbook Nook mysteries, and as Avery Aames, she pens the Cheese Shop mysteries. As an actress, Daryl appeared in Murder, She Wrote. She has also jumped out of a perfectly good airplane and hitchhiked around Ireland by herself. She loves to read and cook, and she has a frisky Goldendoodle named Sparky. This is her second French Bistro mystery.